If it is true that "all roads lead to Rome", in the Italian region of Piedmont many lead to the sea. One in particular deviates from the Via Francigena route south of Vercelli. Through the hills of Monferrato along rivers, rice fields, vineyards, and the villages of Asti and Alessandria, it runs all the way to Liguria. This is an area where pilgrims, tourists, and gourmets can make interesting and tasty gastronomic discoveries: it is no coincidence, in fact, that this area has been included since 2014 in the Langhe-Roero and Monferrato wine-growing and wine-producing landscapes of UNESCO.
In fact, this territory is home to several high quality gastronomic products, the flavours of which you can find in restaurants, farms, wine cellars, farmsteads, and agritourisms, or by participating in the numerous fairs and festivals taking place in the Monferrato throughout the year. Let's discover together the main attractions to mark in your diary.
Unearthing the White King: autumn's highlight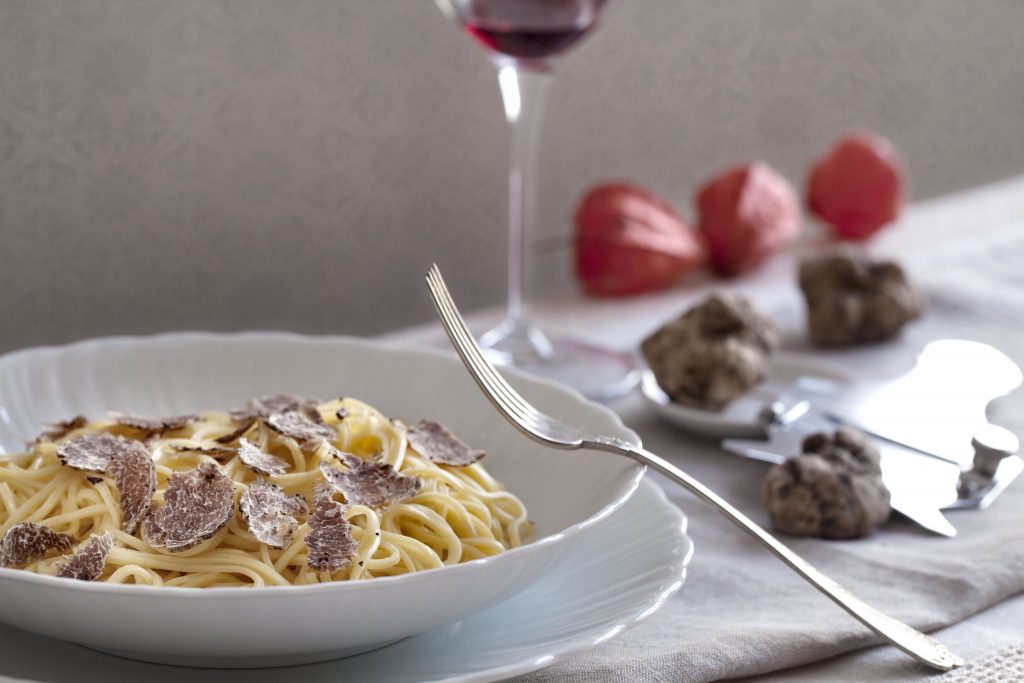 Along this itinerary in Piedmont, passing through the autumn-clad woods, it may happen (but only if you are a very early riser!) that you'll come across a truffle hunter, or trifulau in the local idiom. At this time of year truffle hunters with their trusty dogs are on a passionate and intense search for a natural and delicious treasure: the famous white truffle. In Piedmont, between October and November, the white truffle is the protagonist of several events featuring tastings, conferences, cooking contests, cooking shows, and much more. If you want to live a unique multi-sensory experience, there are the 24 fairs of the "Profumo di Piemonte, terra di tartufi" (Scent of Piedmont, land of truffles) event in the provinces of Alessandria, Asti, Cuneo, and Turin.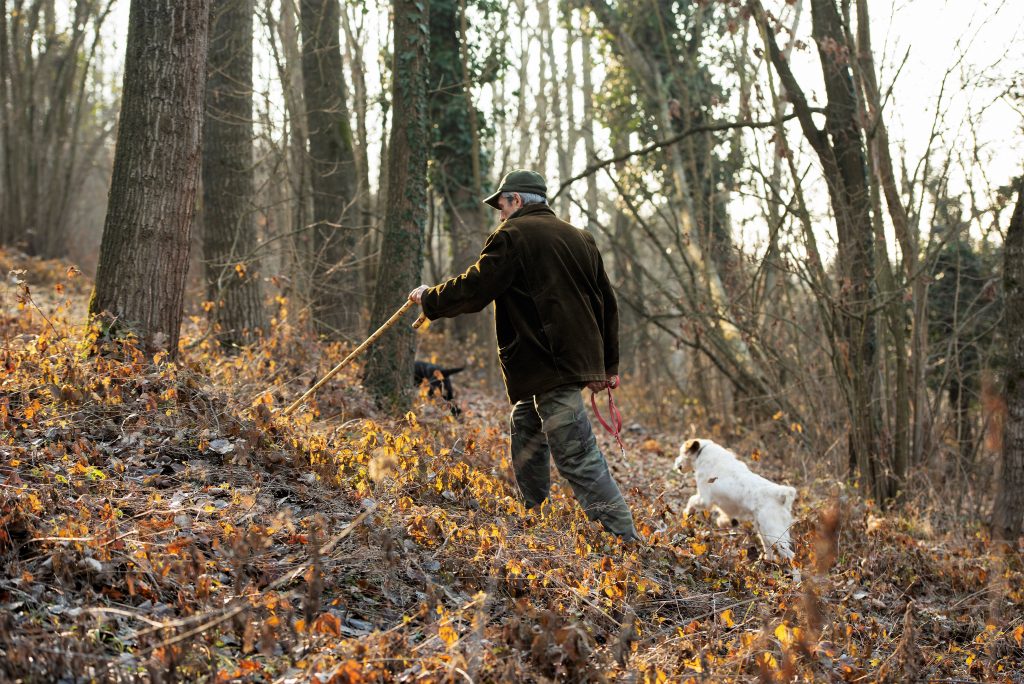 Tastefully traverse the Monferrato landscapes
Whether you are on foot or by bicycle, after crossing the hills of Turin and and passing through the villages of Bardassano di Gassino Torinese, Sciolze, and Cinzano with their castles, Monferrato opens up before you. In the mid-18th century, Savoy cartographers divided this territory into "Basso" (to the north towards the river Po) and "Alto Monferrato" (located south towards the Ligurian Apennines). These areas are characterised respectively by plains and rolling hills, embellished by medieval villages and castles, and by heights where you can visit archaeological sites, castles, and vineyards.
Among the first courses, the unique local recipe, a must-try, is agnolotti del 'plin', which in Piedmontese dialect stands for "pizzicotto" and refers to the ancient peasant technique of stuffing pasta with leftover meat and vegetables, where the filling varies according to the area, seasoned with roast meat sauce or with butter and sage. Among the typical products of the Basso Monferrato is also rice: in the Casale Monferrato area, around 7,600 hectares are dedicated to its cultivation.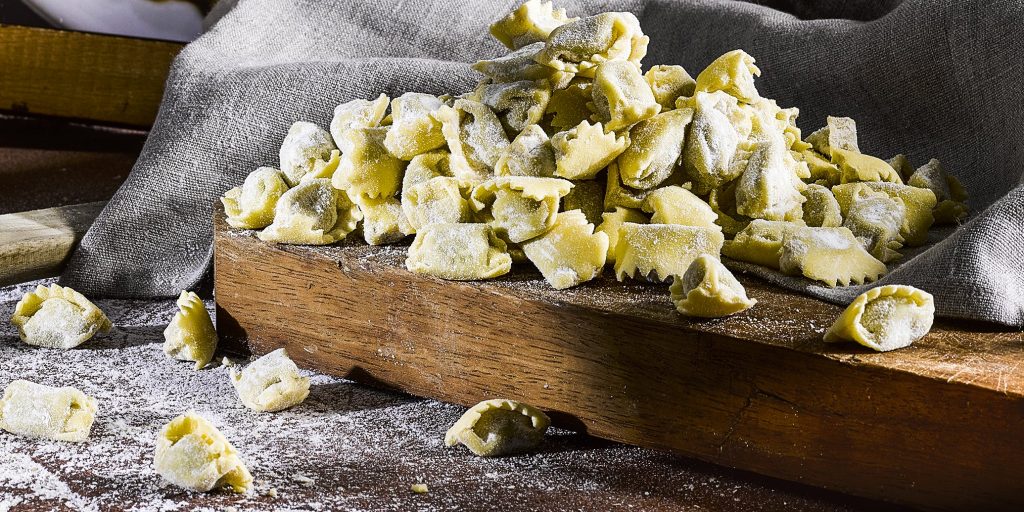 Among the traditional and autumnal main courses, a special mention goes to the fritto misto (fricassà mès-cià) and the bollito misto, composed of seven different cuts of meat (to be accompanied, by tradition, with seven different sauces). A product whose fragrance you can smell even as you walk through the streets of the town, because it is released during the production process, are the Krumiri di Casale Monferrato (the capital of Monferrato), still produced today in the artisan workshop where they were born: their shape is inspired by the moustache of King Victor Emmanuel II, who died in 1878, the very year these sweets were first made.
If you are a fan of cheeses, two destinations not to be missed are the villages of Castagnole Monferrato, known for its Ruchè DOCG wine, and Cocconato, where wines (perhaps a good glass of local Barbera) can be paired with a taste of a typical soft cheese such as Robiola DOP. If, on the other hand, you prefer sliced meats, then the perfect accompaniment is undoubtedly the seasoned raw salami from Monferrato, the Muletta, composed of different cuts of meat and bacon fat, flavoured with spices and an infusion of garlic and wine, combined with a slice of Grissia monferrina, a hard, snail-shaped bread.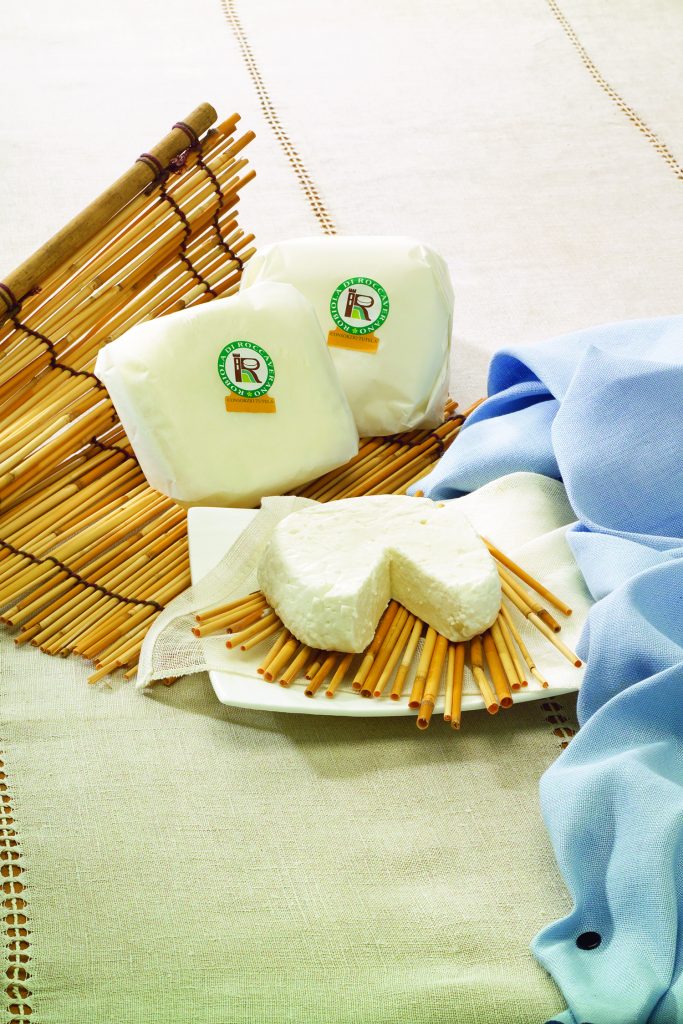 The highest stop in Basso Monferrato, and recommended for a tasty break, is Albugnano, where you can try bagna cauda or 'caoda', a hot sauce of peasant origin served as a single dish, which is prepared with garlic, salted anchovies and oil and in which you can dip raw and cooked vegetables such as the prized square pepper of Asti and the Cardo gobbo di Nizza Monferrato, a Slow Food presidium, cabbage, cauliflower, Jerusalem artichokes, potatoes, etc. In this area you can satisfy the eyes as well as the taste buds by admiring the Abbey of Santa Maria di Vezzolano, which represents one of the spearheads of the Romanesque art heritage dotting Piedmont and which in the Monferrato area counts more than 80 sites including monastic complexes, parish churches, chapels and cathedrals.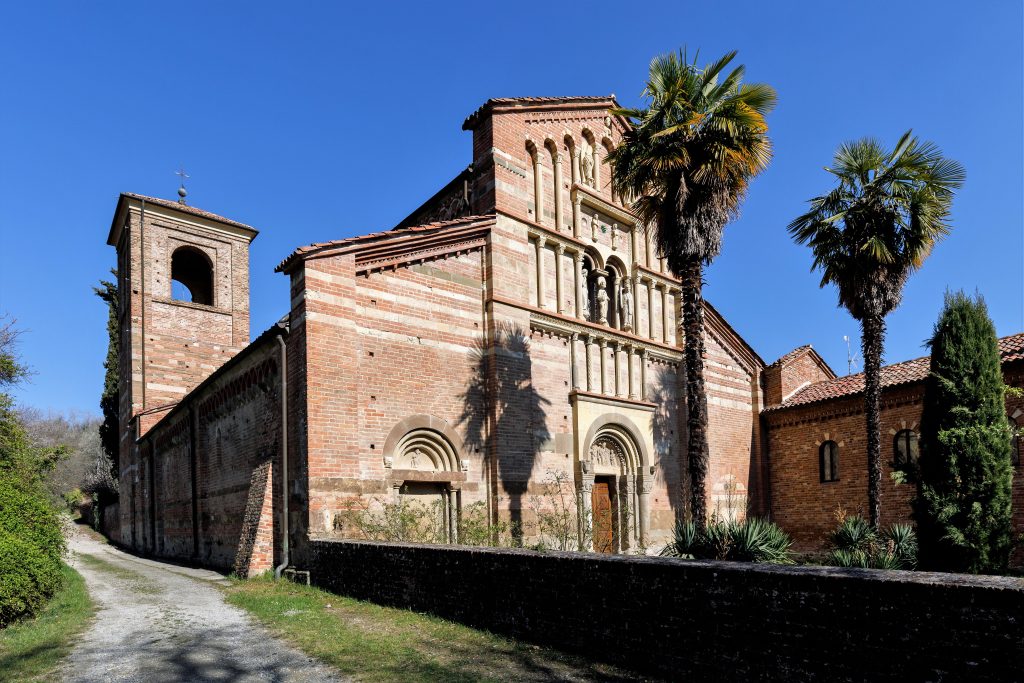 Continuing your journey, a sweet and good idea for a snack could be a stop in Castelnuovo Don Bosco where you can taste Finocchini, biscuits named after the fennel seeds in the dough.
Flavours of Asti and Alessandria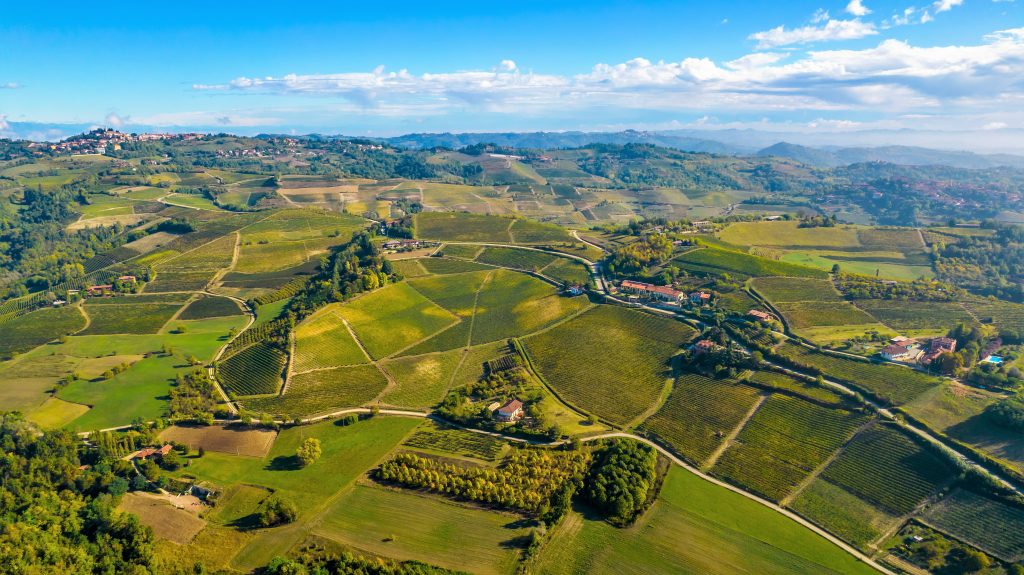 In the rural landscape of Asti that characterises Alto Monferrato, a large number of small churches and country chapels speak of ancient popular devotion, such as the parish church of San Lorenzo di Montiglio (12th century) and that of San Secondo di Cortazzone (11th century) in the Romanesque village that has remained unchanged over time, just as in Montechiaro, where we find the parish church of Santa Maria Assunta di Piesenzana and, on the hill in the locality of Castel Mairano, the church of Saints Nazario, Celso, Vittore and Innocenzo (12th century).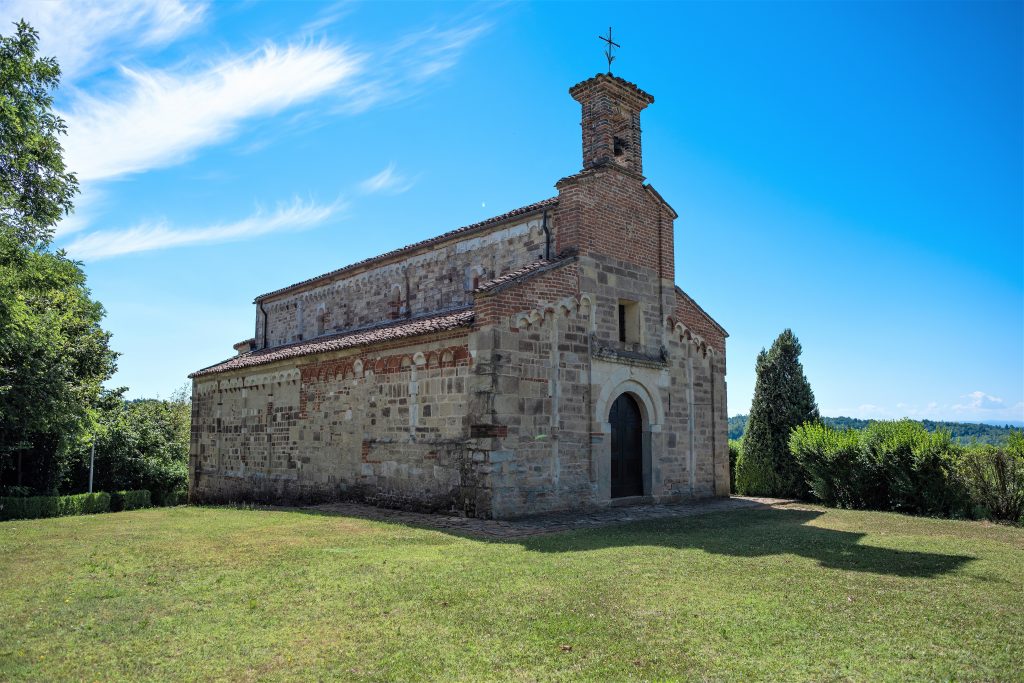 Once in Asti, where the Baptistery (7th century) and the crypt of Sant'Anastasio (8th century) are priceless Romanesque testimonies, there is plenty of choice to satisfy the palate: raw meat with truffles, agnolotti all'astigiana, tajarìn (thin egg noodles), or a taste of Asti onions, grape mostarda, Robiola di Roccaverano and, to close, a slice of Torta del Palio covered with melted dark chocolate.
From Piazza Campo del Palio we pass through Castello di Annone, Quattordio, rich in 17th-century stately homes, Masio, a splendid viewpoint over the Tanaro Valley, and Oviglio with its evocative parish church of Saints Felice and Agata and its 14th-century castle, and on to Alessandria, the city of the famous Borsalino hat and bicycles, where there is no shortage of flavours to discover, before heading for Acqui Terme, Viguzzolo, Volpedo, Fabbrica Curone and Tortona and up to Gavi, famous for its white DOCG wine of the same name.
Among the typical dishes of the Alessandria area, you should definitely try agnolotti di Alessandria, braised beef in Barolo wine, Mandrogne beef sausages, rabatòn ('ruzzolati'), i.e. gnocchi rolled in flour and filled with herbs, cheese (ricotta) and eggs, boiled in broth and then au gratin; chicken alla Marengo, the Lacabòn di Santa Lucia (handmade sticks hardened with caramel and honey, sold wrapped in white greaseproof paper), De.co and the sweet focaccia from Alessandria.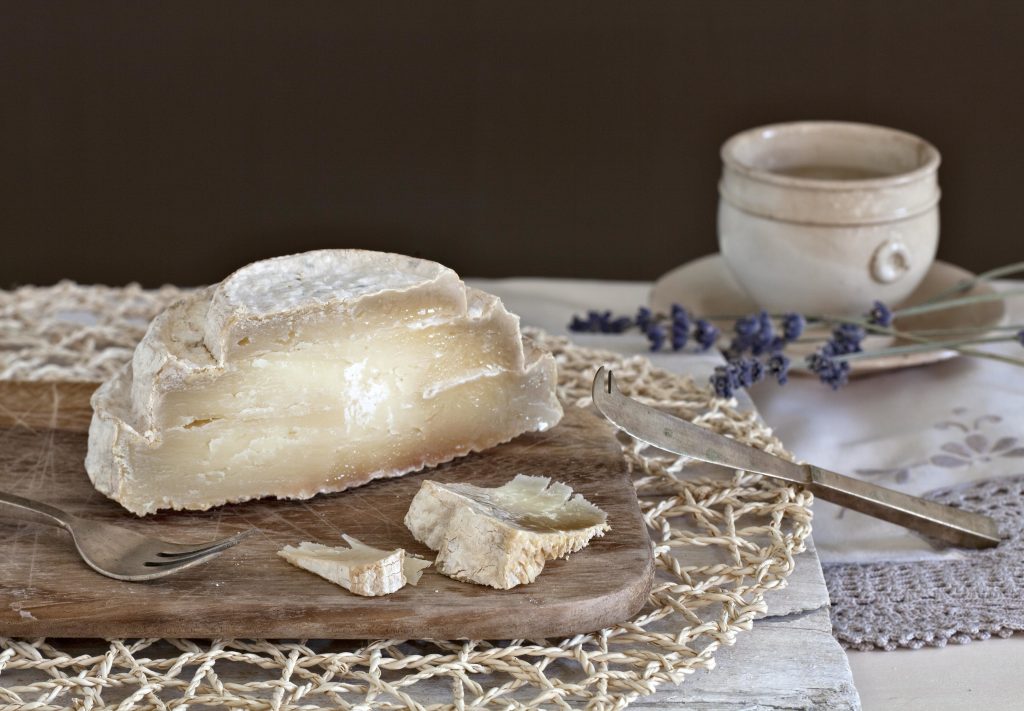 After a tour with so much taste and variety along the Monferrato itineraries, all that remains is to take home many precious memories, as well as some of these typical products with which to surprise friends and family at the table!
Discover Piedmont on https://www.visitpiemonte.com/en