For those who love walking, cycling and love to be outdoors, we decided to collect the advice of those who are by now veterans of such trips: the voice of those who already have experience on the Via Francigena will certainly be useful and will give you the preparation you need to set off. Here is the first in a series of choral articles produced in collaboration with bloggers and ambassadors with extensive experience of walking and outdoor activities. We couldn't help but start with a recurring and ever-present doubt among those who set out on a journey: "What to put in your backpack in preparation for a long walk?"
Our experts have the floor!
"Survival" content
Undoubtedly the watchword when filling your backpack is 'lightness', because as Andrea Alessandrini, cycle traveller and creator of the TravelBeer project, reminds us, "carrying too many things negatively affects the quality of the walk or ride: in this case, the less you carry the better!"
It is then true as Mattia Fiorentini says: promoter of travelling as self-discovery with the ScomfortZone project, regarding the choice of what to put in the backpack "we are always torn, caught between a 'you could always use it' and a 'it's too heavy!" However, there are some vital items for our safety, such as "the first aid kit, which is no longer an option, especially if you are walking far from built-up areas". Among the unmissable items in the kit are a needle and thread, a Swiss army knife and a head torch, which, as Pietro Oberto suggests, ambassador of the hikes in the area of Cuneo with the social channels of Vivoecammino, is "useful for walking if you leave early in the morning when it is still dark, but also for moving around the hostel without switching on the light when others are asleep, or for reading".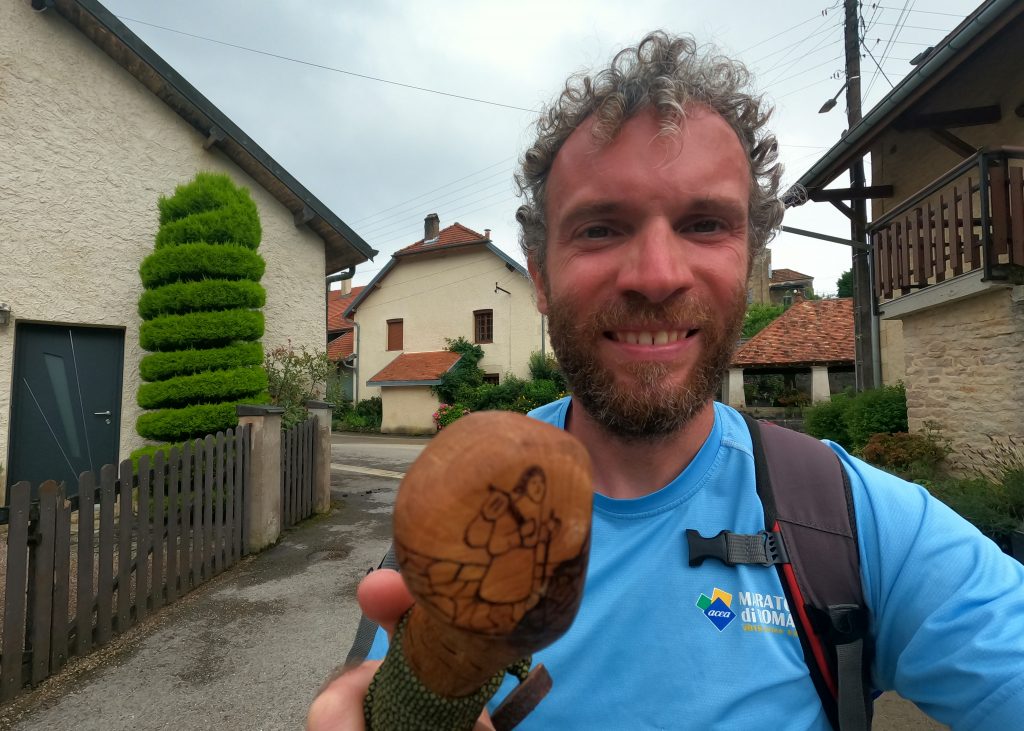 According to Monica Nanetti, a journalist who loves walking, experienced cyclist and promoter of slow travel for the blog Se ce l'ho fatta io ('If I have made it'), not to be forgotten and "among the light and space-saving things is a whistle to call attention in case of need, since safety is always a priority".
New technologies help, especially maps and itineraries traced in the apps, such as the one designed by the Via Francigena partner AllTrails, with which one can easily find their way along the route. However, compared to the old mobile phones, even the newest ones have a limit: duration. This is why, according to Annalisa Galloni, environmental and hiking guide and promoter of the Via Francigena in Campania and author for WeRoad and Anime Erranti, "it is necessary to always carry an old-fashioned, 10 euro, display-only model with an infinite battery. Nowadays, with modern smartphones, we often run the risk of finding ourselves with a flat battery or with a mobile phone that freezes, or worse still, we could even lose it… it is therefore a good precaution for long walks, but also for hiking, to carry an extra mobile phone, the really small ones, which weigh 100 grams – the ones we used to use in the past; just put a new SIM card in it, which is already active for phone calls, recharge it once, and then keep it in your backpack. In an emergency we can switch it on and make a phone call".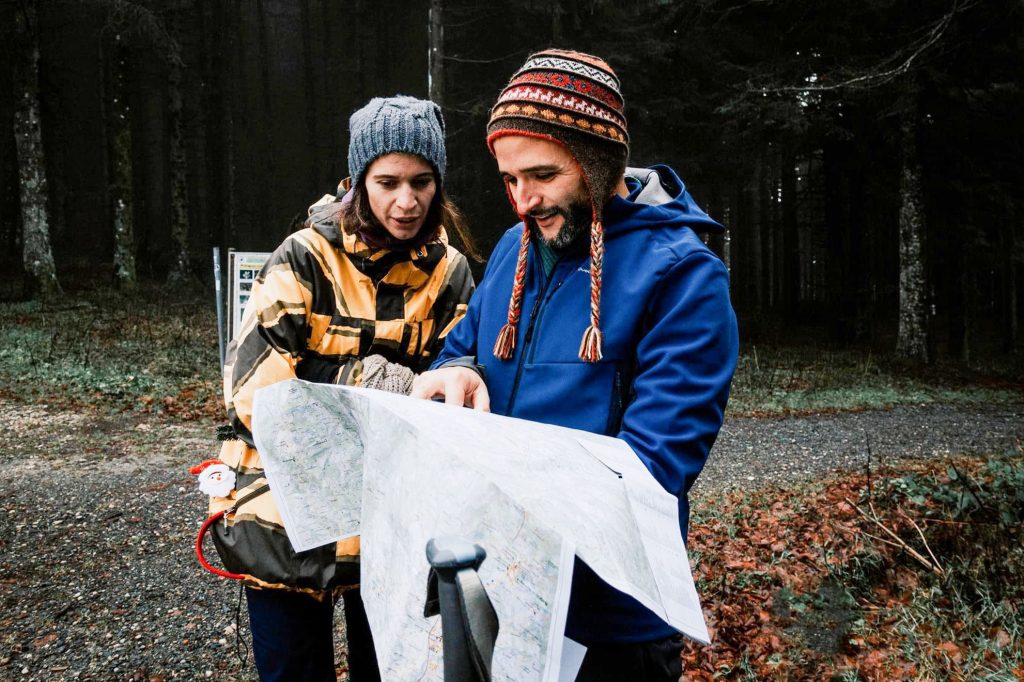 To make the walk as comfortable and easy as possible, a good recommendation is always to take care of your feet, so imitate Joanne Roan – English-born wandering walker and author of the blog Joanne's Long Walks – who always carries a roll of Leukoplast with her, to cover, before setting off, the parts of her feet where blisters tend to form. "If you can prevent the piece of Leukoplast from sticking to the sock when you slip it off the first night, it will stick to the skin for several days, protecting it from rubbing." Often taking the feet out of the socks and refreshing them is not enough, so getting a scraper and arnica cream helps prevent blisters and corns.
For any inconvenience may occur, such as the sole of a shoe breaking or in case any of your items get damaged, don't forget to put American tape in your backpack with which you can temporarily repair almost anything.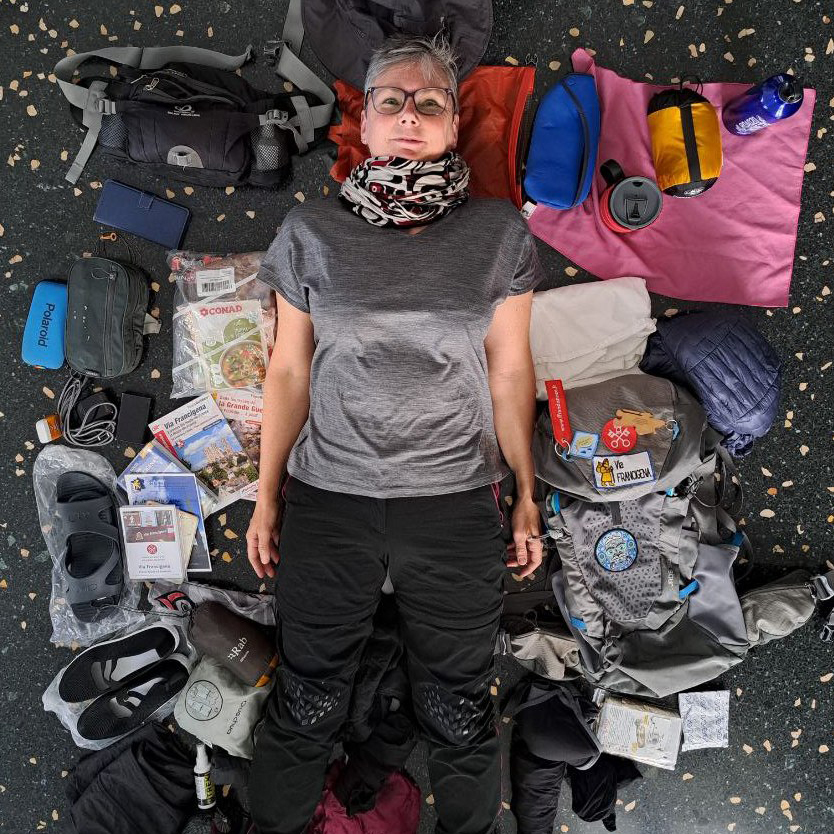 Essential and useful tools
They seem obvious in everyday life, but on the road they can prove to be a valuable resource: we are talking about clothes pegs, preferably accompanied by a string or rope. For environmental guide and blogger of Meama, Jennifer Deckert – who always travels in the company of her dog Maya – clothes pegs are undoubtedly something never to be forgotten for hanging up clothes in the room at night, such as socks, which sometimes do not dry out completely in time, or for attaching wet towels to the backpack to dry in the sun on the road. Those who have already walked recognize this: fellow pilgrims are immediately recognizable by the laundry spread on their back!
One item that is not heavy and is very useful is definitely a bandana (or buff) to wear on your head or around your neck: it is essential both to avoid sunburn and to cover your nose and mouth in case of dust. Better still is to have two, so as to cover both the neck and the head.
Both useful and pleasant
There are two other useful and lightweight components to carry along your walk. One is the small, lightweight cotton purse, or backpack, the kind that is completely foldable and lightweight. This is a practical way to keep your wallet, mobile phone and sweatshirt, for example when you go out for dinner or take a tour in the villages and towns after arriving at your daily destination, without having to carry the bulky and heavy large backpack.
The other consideration is to have a cotton bag with you for shopping, so to avoid using plastic bags, and, if necessary, an additional reusable container to buy a packed lunch without consuming plastic. This is one of the few habits that Daniela De Santis – journalist with a passion for walking and blogger for Free Wheels ODV – has both in her everyday life and along the trail.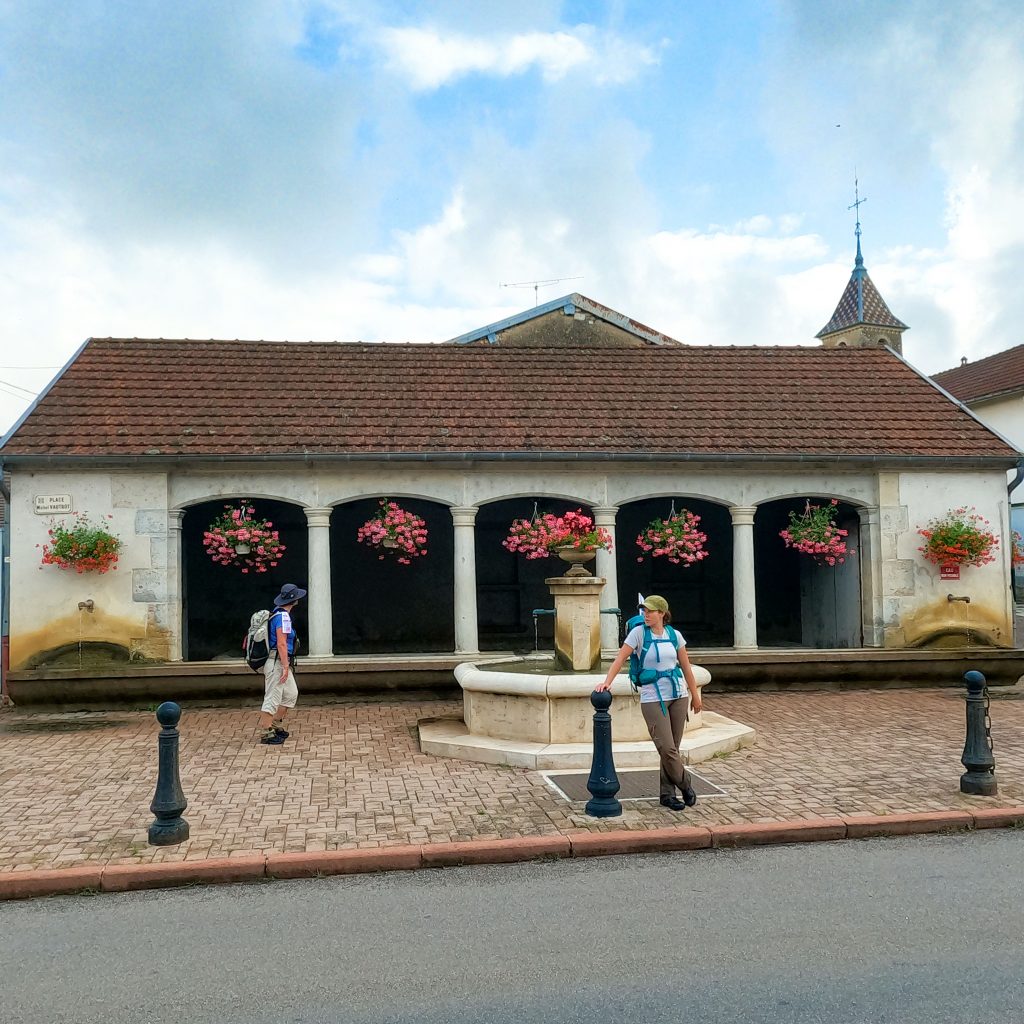 Appetite will always travel with you
On the road, appetite and hunger must be welcomed – in moderation, since we must not overindulge, although there are many culinary temptations among the local offerings. There are times or places, however, when the availability of food may be scarce – if not lacking altogether – such as in particularly isolated stretches of the route while your stomach is growling and everything is closed. Being creative is key, but prevention is always the best solution: in the absence of a better option, a supply of a couple of cloves of garlic and a few single-serving sachets of olive oil (of the kind they give in certain bars/restaurants) will suffice for some spaghetti. If you find some vegetables, the dish will become even richer. There are also plenty of tasty yet nutritious and quick ideas to satisfy your appetite and energy needs, such as those you can find here.
Having some sachets of freeze-dried soup, in case you happen to be in a small town where there are no shops, or on holiday days when everything is closed, can save the meal too.
If coffee is something you just can't do without, or you love a rich breakfast, then it becomes important to carry tea and instant coffee bags and a couple of packs of oatmeal for breakfast, in case you stay overnight in a place where there is no breakfast and no café open early in the morning. In addition to the main meals, having a snack every now and then will lift your spirits as well as your tummy rumblings: remember to have a valuable dose of energy bars and snacks with you – especially dried fruit. If the weight of your backpack allows it, it is useful to have your own glass or cup, because routine habits are special to us and we just can't give up to some of them. It is not a problem if it is missing, but it is still a sweet cuddle for yourself before facing the long journey.
Recommendations for cyclists
A cycling backpack should not be without the necessary tools in the event of a puncture, such as inner tubes and a pump. Another thing that could be useful is a false chain link.
In order to stay light during the trip, spare pieces should be collected in a targeted manner after carefully studying the weather and climate. In case of rain, it is essential to carry waterproof shoe covers: they save the trip! And last but not least, also applying to those who go on foot: technical shirts, which are essential!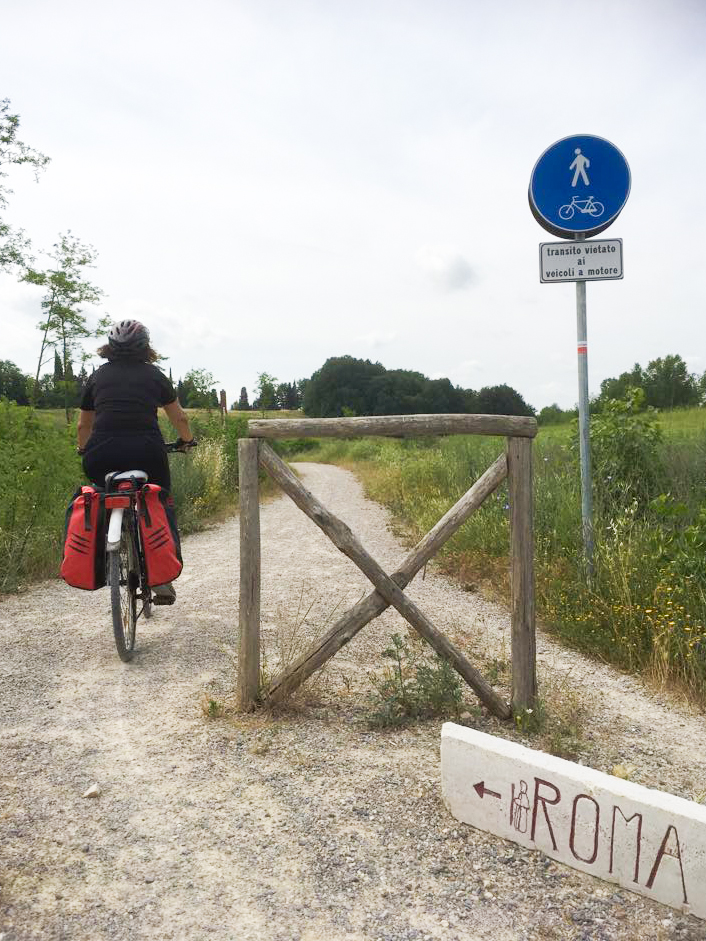 The backpack, our home on the road
The backpack is a bit like our mobile 'home', but it also says everything about our taste, so we need to choose it well. For a walk along the Via Francigena, whether it is for a short stretch or to go all the way to the end of the route, it is best to have a real hiking backpack, with an adjustable backrest size, side pockets and a pocket with a hole for water, to be purchased together with a good waterproof backpack cover. There are different backpacks, and the versions available vary from woman to man.
In particular, there are three types suitable for different experiences and uses:
35/39 litres (L). for a daily hike;
40-60 L for multi-day hikes without a tent, with overnight stay in accommodation;
60 to 100 L for long hikes on foot with tent, cooker and sleeping bag.
Pay attention to the season! In winter it is good to have a larger capacity, while in summer it would be better to use a lighter version with breathable materials, particularly near the back. For other useful tips on equipment, we suggest you visit this section of our website.
Our technical partner Ferrino offers a range of backpacks designed for trekking, hiking and walking, such as the Finisterre model – the one we gave away with the quiz for visitors of the EAVF stand at the Fa' la Cosa Giusta 2023 fair. We love these backpacks because they are light and at the same time professional, designed for the needs of those who have to tackle a demanding itinerary. The brand is based in Turin but their products can be found online and are available in various sales outlets.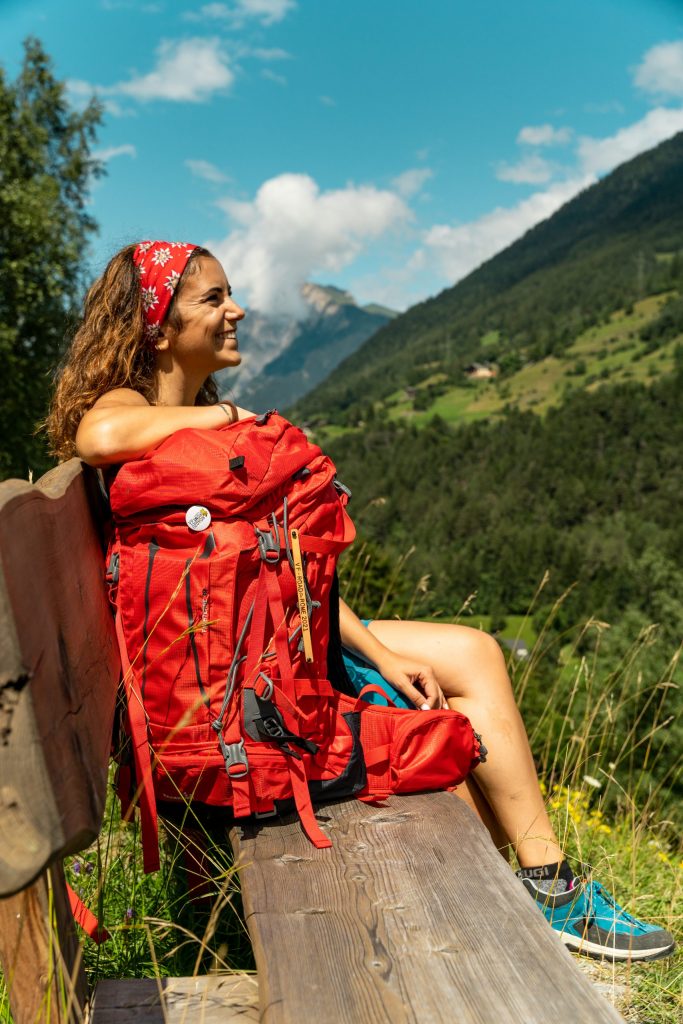 As always, "less is more" – so your backpack should not weigh more than 15-20% of your body weight. One important recommendation: when placing items in your backpack, keep in mind that heavy items should be placed on top or in the middle, and sharp and hard items should not be placed against your back.
A final, wise tip
Finally, although not everyone can do it, what we recommend is to always put 'one extra day' in your backpack, so that you can happily and calmly react to the surprises that a walking or cycling trip can give you.