Walking with my dog, called Maia, on the Via Francigena has changed my life for the better and therefore I would love to share my beautiful experience with you. Perhaps some dog lover out there is just waiting for some suggestions and can be encouraged to start walking too.
Maia and I walked the Via Francigena from Berceto to Sutri. We walked in stages as we are living nearby in Florence, and I also didn't have enough time to walk the entire stretch in one go. We normally walked for one week, went back home, and returned to walk when we had a little bit of free time to continue our journey.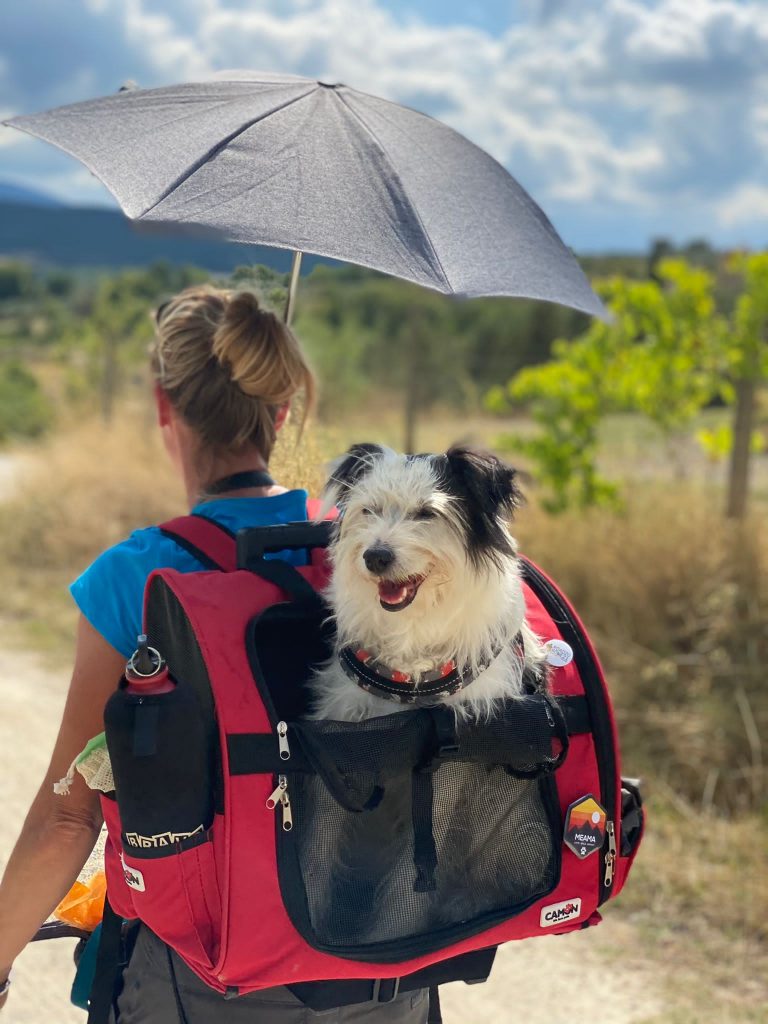 Walking with my dog, side by side, for so many days in a row, just the two of us and in such beautiful surroundings has created a very special bond between me and her. Thanks to the teachings of the cammino and through Maia's behavior, I now perfectly understand the importance of a "slow" and conscious life. I learned to appreciate what's surrounding me: nature, silence, the music of the birds, the rain and, above all, the smell of the air. Maia helps me to live more with less, and we've started to understand each other without words or sounds, which is the most beautiful kind of love. In fact, as soon I came back home after my walk, I started to change everything in my life that was not in line anymore with my new "way of living".
But without much further ado, here are my 5 tips on how to make walking the Via Francigena with your dog a success:
1. Always prioritize your dog's health and fitness condition, not yours.
We never walk more than 18km a day, as my little Maia is a small dog with short legs, and that means we need to split almost all the stages in two. Walking with your dog means listening to his or her abilities more than to your own. Maia is in a very good condition, but she has a limit, and I am well aware of this. We never go further than she can physically handle. Walking the Via Francigena should be a beautiful experience for both of you so make sure to keep this in mind. Less is more.
2. Organize your cammino in the best way
It's often preferably to walk without any plan at all but, with a dog, I would advise against this.
I organized everything in advance as not all accommodations on the way accepted Maia. I used preferably B&Bs and hotels, but I also had a chance to be hosted by some dog friendly hostels, that luckily become more and more.
It is also important to organize the transfers, by train and bus, if necessary. Normally dogs are accepted but sometimes you need a muzzle or a vaccine passport to carry your furry friend with you. For Maia I have a little bag, that I use in trains and buses. She uses it also in the night to sleep.
3. Take care of the food and water for your dog
Maia eats almost anything, so I don't carry special food for her in my backpack. On the road, passing through little towns, I usually buy raw meat or cans of dog food. Before starting in the morning always be informed where you can buy food along the way. There are stages where you will not find any shops, which means you must carry food with you for two days.
During the walk itself I usually offer Maia little snacks just to give her enough energy to continue the journey. Hydration is also a very essential thing: always be sure to bring enough water for your dog. Drinking while walking keeps the body stronger.
4. Go "out of season"
The Via Francigena, above all in Tuscany, can be very hot during the summer months. The sun, the white roads and the hot air can reach 40°C degrees or more. This heat can be fatal for your friend if he or she is exposed to too much of it or drinks too little. So, make sure to keep attention or better even: I suggest you choose spring or autumn for your walking experience.
5. Switch off your phone
Switch off your phone, stop the music, forget about everyday life and relax. Try to get in symbiosis with your dog. Stop when he sniffs. Listen when he raises his ears. Walk slowly and enjoy the air, the wind, the nature, the silence, the culture, and the impressions of your wonderful journey together.
Take care and buon cammino! 🐾
For more information on Jennifer's activities, please visit:
www.meama.it
www.hikingtuscany.it