Did you know that some of the most beautiful stages of the Via Francigena can be found in Switzerland? If you're still wondering whether or not to add this stretch to your itinerary, let me take all your doubts away: here are 10 highlights of the Via Francigena in Switzerland in geographical order from north to south:
10. Gorges de l'Orbe
Switzerland is a wonderful country for many reasons. Its natural heritage is one of them, so what better way to start your journey than by visiting the famous Gorges de l'Orbe, a nature reserve protected since 1970. A calm and relaxing place that simply makes you want to stop and never leave, especially at those times when the gorges give you a breath of fresh air during the hot summer days.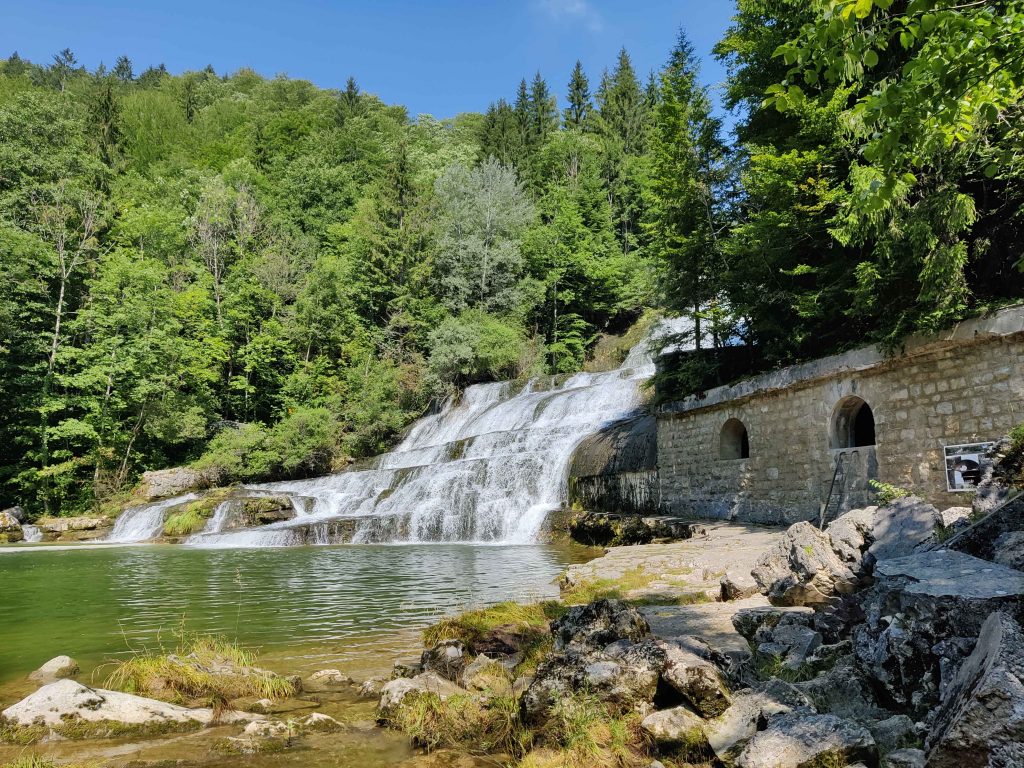 9. Romainmôtier
Romainmôtier is geographically speaking a bit of a "hole". Not very attractive at first sight, but you will certainly fall under the charm of this little village once you're there. Its small streets around the abbey church give you the impression of stepping back in time.
Here are 3 additional reasons why this place is so important:
King Sigismund called upon monks from Romainmôtier to found the abbey of Saint-Maurice in 515, an abbey that you'll learn about later in this article.
The abbey of Romainmôtier is one of the oldest Romanesque churches in Switzerland.
It was built between 990 and 1028 following the structural plans of the church of Cluny. As you may already know, bishop Sigeric went to Rome in 990. Would he perhaps have laid the first stone of this abbey?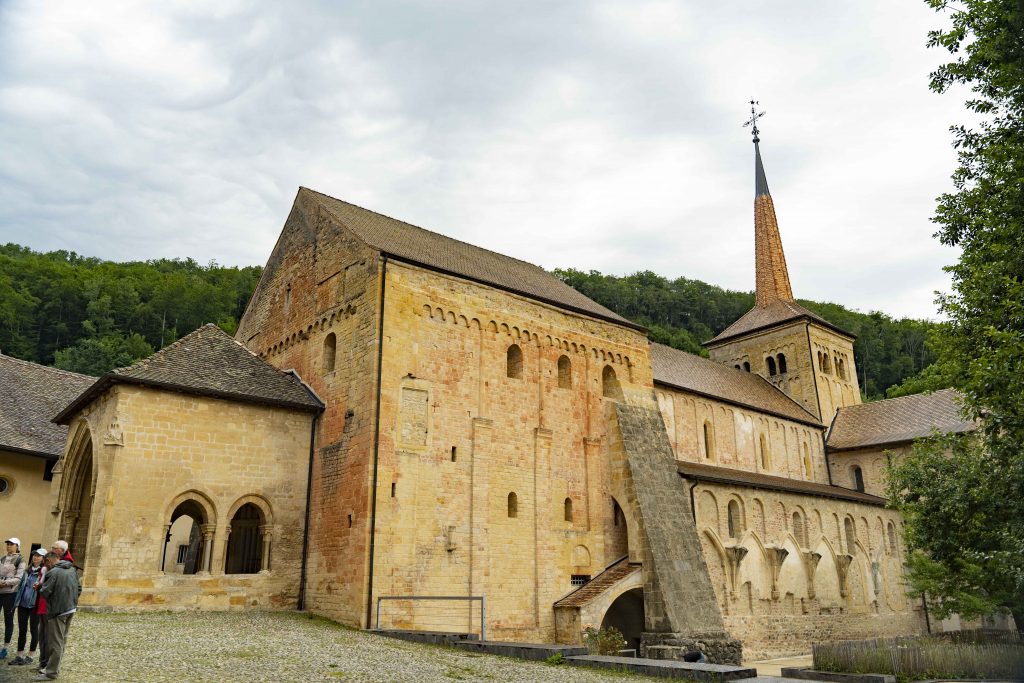 8. Lausanne Cathedral
Whatever your religion, you will not remain indifferent to this Gothic monument, symbol of the beautiful city of Lausanne. It was erected in the 12th and 13th century and consecrated on October 20, 1275 in the presence of Pope Gregory X. It was given to the Protestant cult in 1536.
For the record, did you know that between 10pm and 2am, a watchman shouts the hours to the inhabitants from the Belfry Tower? This tradition is more than 600 years old.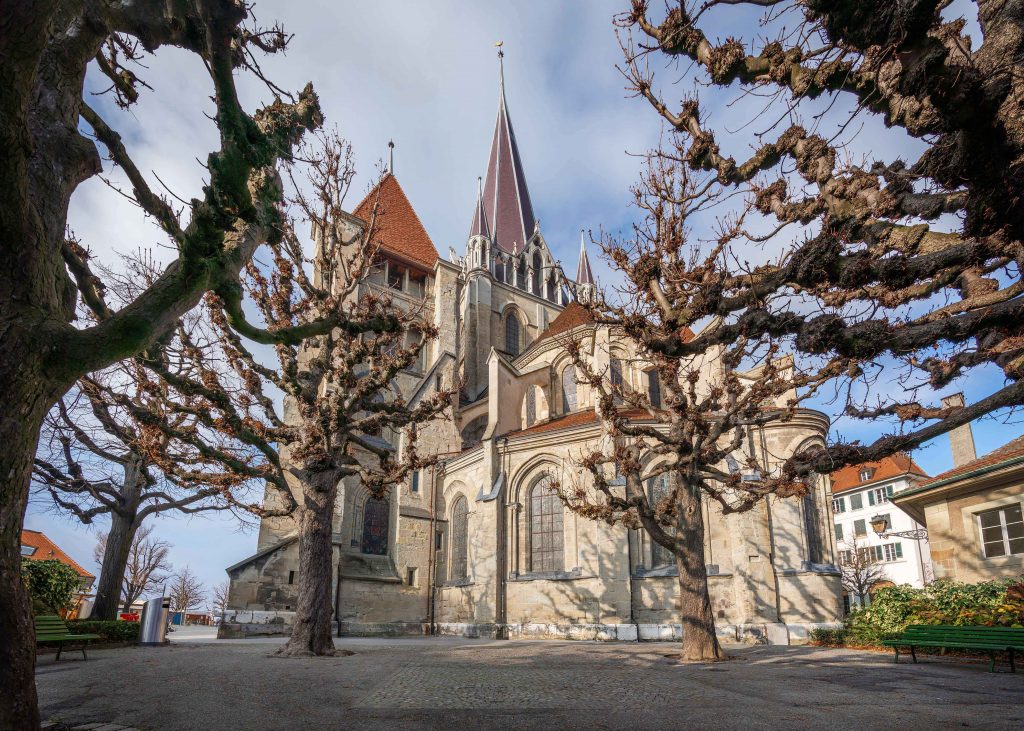 7. Lavaux terraced vineyards and Lake Geneva
For me, this is "the place to walk". For mountain dwellers such as myself, water, lakes and wide open spaces are synonymous with a change of scenery, just like Lake Geneva. It makes me think of the sea, the sun and vacations.
Add to this the Valais Alps as a backdrop, which always reassure me that I'm not too far from home 😉 and last but not least the extraordinary vineyards built in terraces make this place exceptional in my eyes. And I'm probably not the only one since it's a UNESCO world heritage site!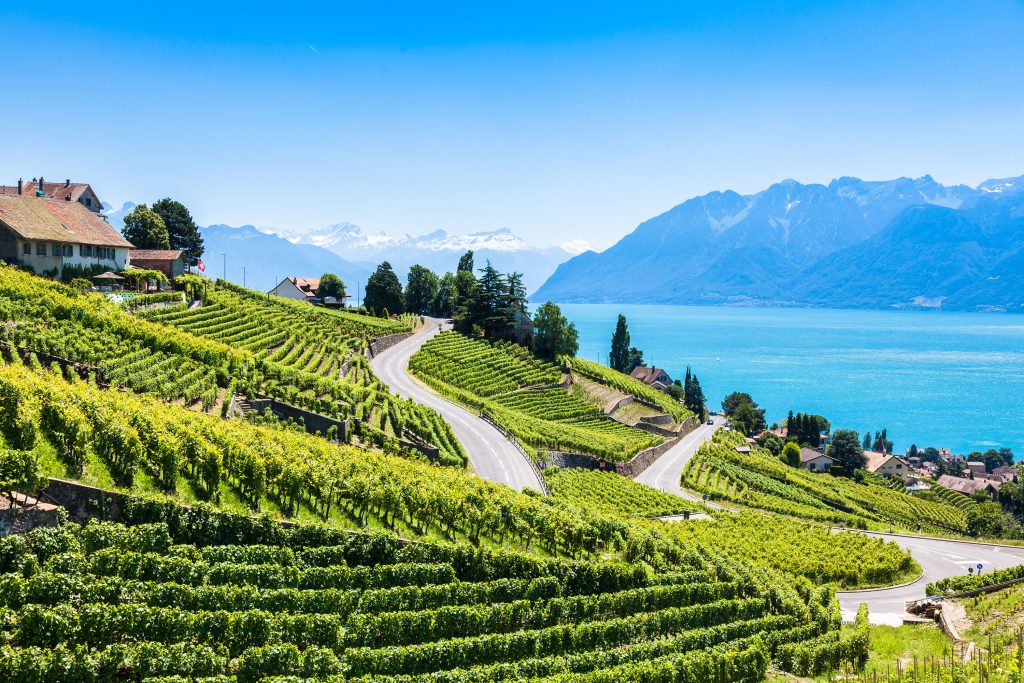 6. Chillon Castle
Switzerland Tourism considers Chillon Castle as one of the 5 must-see places in Switzerland. That alone should be enough to convince you! And by chance, the Via Francigena passes in front of it. It is a romantic place par excellence since it is built on a small rocky island in Lake Geneva, facing the splendid Dents du Midi mountain range. Since castles were mainly used to defend, and because its location is an mandatory passage between the lake and the steep slope, it was decided to build the castle where it stands today. More than a castle, it is a perfectly preserved fortress!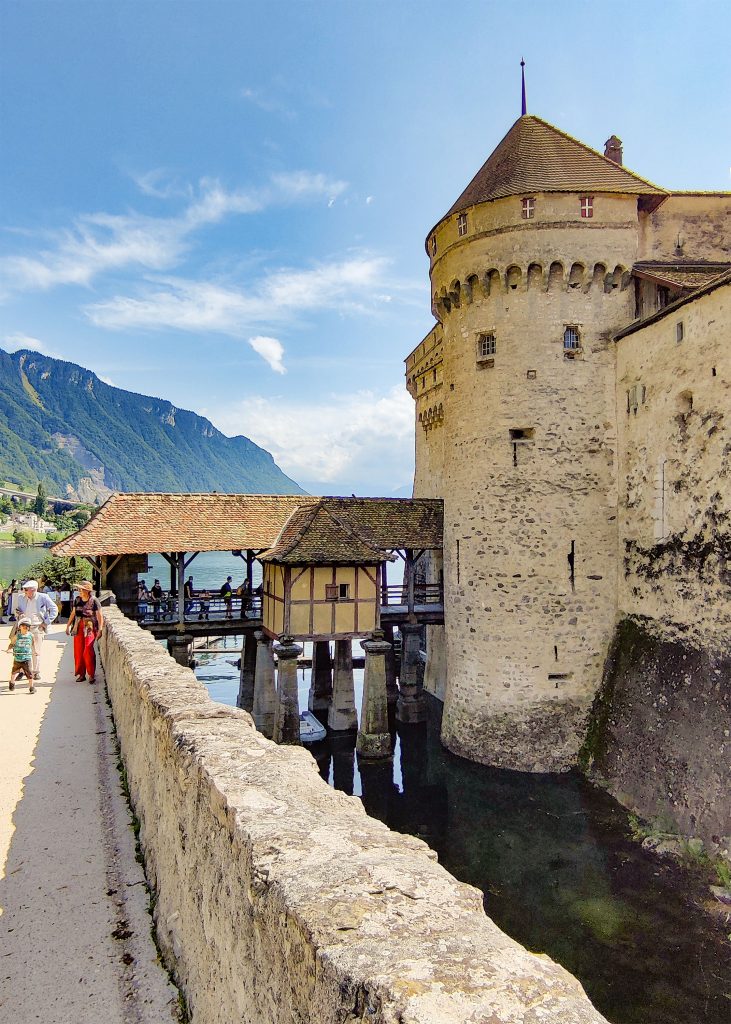 5. Aigle Castle
Many transformations throughout the centuries have given this beautiful castle its youthful and fairytale-like silhouette, which radiates thanks to its imposing surroundings. My dear friend and vice-president of the Swiss Association of the Via Francigena, Christian Schülé, historian and connoisseur of the Aigle region, speaks about it much better than I do in this very interesting article: "Surrounded by vineyards, with the Alps in the background, it is a real picture postcard castle, the archetype of the Swiss landscape."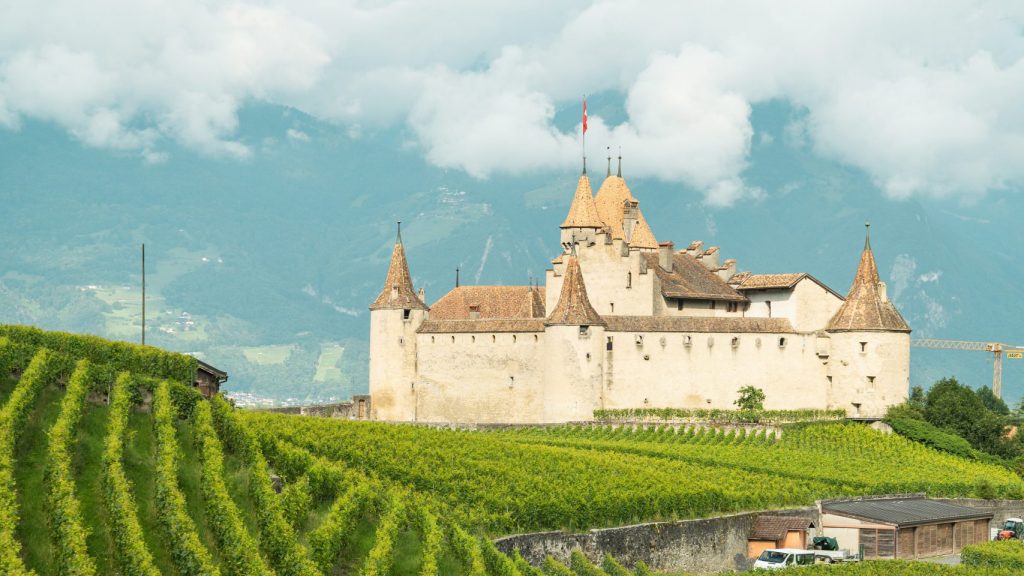 4. Abbey of Saint-Maurice
5 years of college at the Abbey of Saint-Maurice make me totally subjective about this place. But when we talk about the oldest abbey in the West still in activity, it's okay to be so, right? Imagine that canons have been praying there non-stop since 515… I can assure you that Sigeric must have appreciated it! He was in such a hurry to get to the abbey that he even did the Orsières – St-Maurice stage all in one go, whereas nowadays it usually takes 2 days to cover.
What fascinates me the most is the position of the abbey with its grandiose bell tower, which at the same time looks so small in comparison to the enormous cliff behind it. Ah, if only walls could talk! What anecdotes they could tell us about those medieval pilgrims on their way to Rome.
Psst: a little less old than the Abbey – "it took more than 1500 years to elaborate these recipes" -, don't miss the delicious beers of the Abbey. For the moment not as famous as Trappist beers but who knows, perhaps in another 1500 years they will be?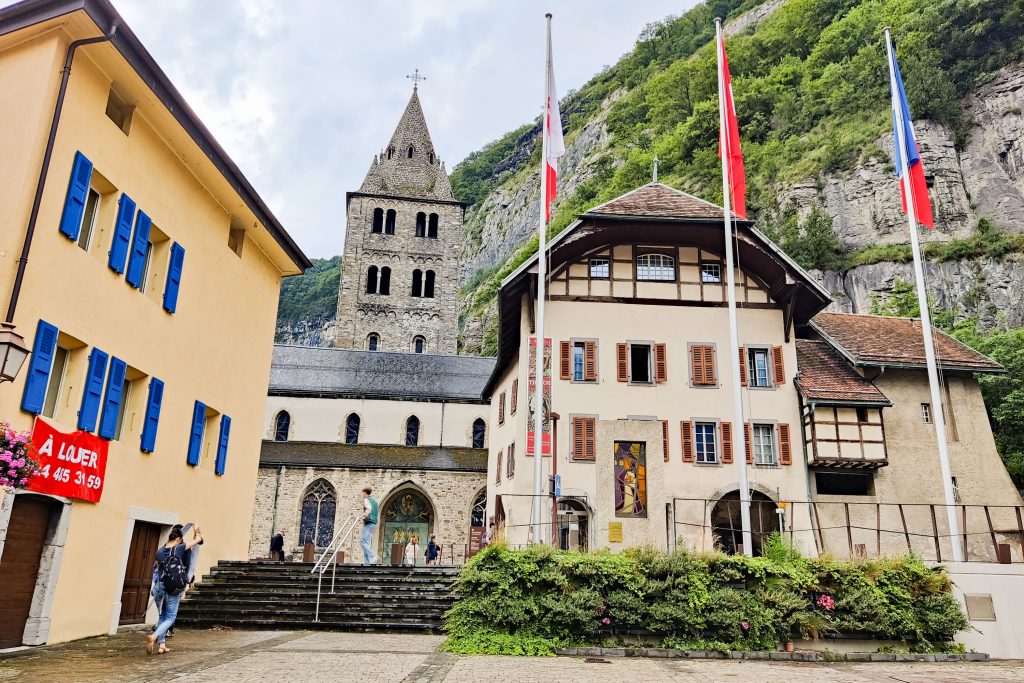 3. Gianadda Foundation in Martigny
Italian speakers are very present in Valais because they came here from Italy to find work. A famous example is the Gianadda family, which came to Valais from Curino, a small town situated 40 km north of Vercelli.
The Gianadda Foundation, a famous cultural center in Martigny, was created by journalist, philanthropist, engineer and artist Léonard Gianadda. His Foundation hosts exhibitions of world-famous painters but it also has a rich musical programme, an automobile museum (I'm not a fan of cars but I have to admit that I had a little crush on this museum when I was a kid), a sculpture park, and a Gallo-Roman museum; an impressive cultural center!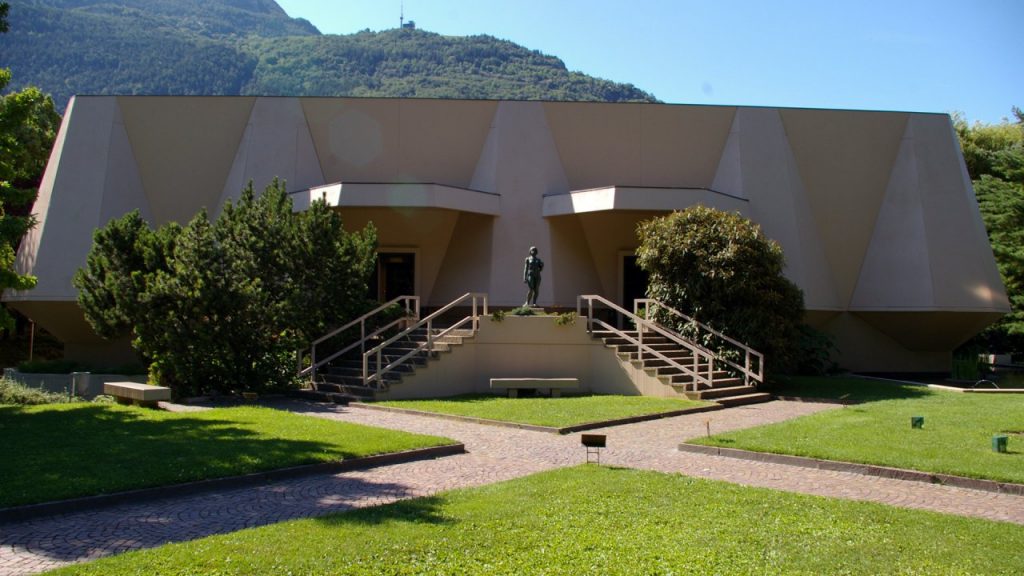 2. Great St. Bernard Pass, Hospice, and dogs
First of all the pass: the highest point of the entire Via Francigena. And geographically speaking, it is also said that when you are at the Great St. Bernard Pass, you are closer to heaven. The presence of the hospice is obviously not foreign to this. This place, visited for thousands of years, is one of the most famous passages through the Alps. It is also the 3rd highest road pass in Switzerland.
Then there is the hospice: an imposing building that can withstand all kinds of weather conditions. It is a haven of peace and quiet that has been open for almost 1,000 years to shelter pilgrims of all kinds from all over the world. If you are familiar with the hospice in summer, a visit in winter will help you understand its important role.
And then there are the dogs: these furry friends are famous all over the world, and their very first role was to guard and defend the hospice before quickly becoming great avalanche dogs as well. Did you know that today, they have also become excellent social dogs?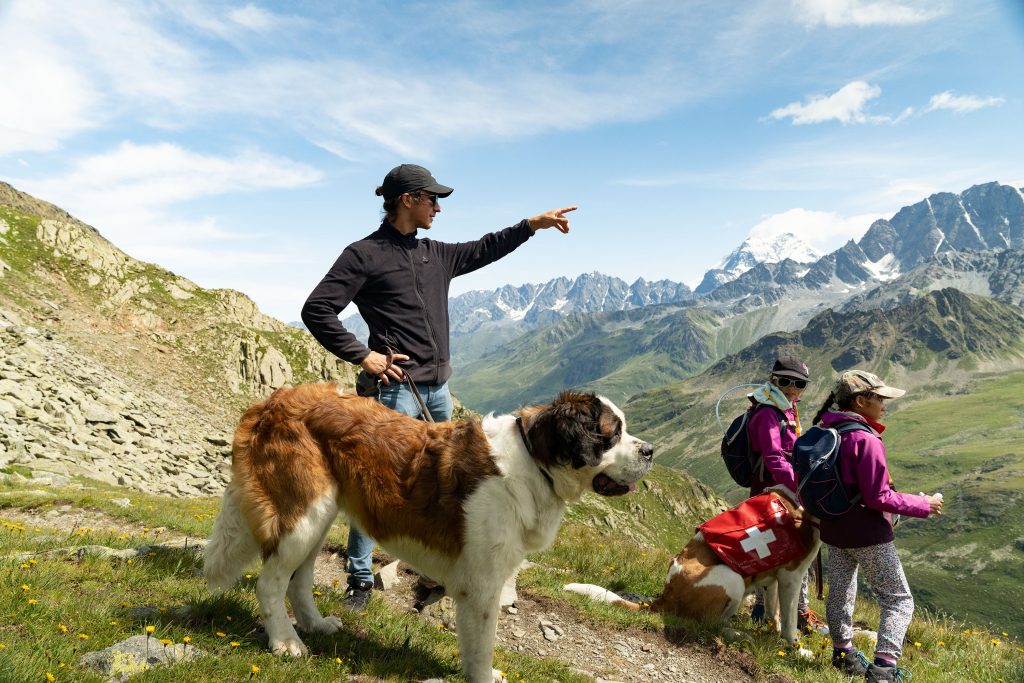 1. Raclette
What is raclette? This typical Swiss dish consists of melting cheese in the heat of a fire. It was first called "roasted cheese" (fromage rôti in French), a dish appreciated by shepherds and alpacists at the end of their hard summer season and later on also served as a festive dish on happy occasions. Since the 20th century, it has been called raclette because it is by scraping (in French: racler) that the heated cheese is put on the plate.
But who really invented it? According to famous magazine Geo! it was the Swiss, or more precisely the Valaisans. But beware: do not tell a Valaisan that you have eaten a raclette if instead you have actually eaten a raclonette. It is not the same, and it would be an insult 🙈 But as the Valaisan is not vindictive, he will invite you to taste the original! By the way, on the Via Francigena, you can eat the real raclette every day of the year from 6am to 10pm at the dairy in Orsières!