On the 31st of July, on the historical Cisa pass in the municipality of Berceto, the first TWIN Cabin will be inaugurated. The accommodation structure will open to 'slow' tourists, traveling by foot or by bike along the Sentiero Italia CAI and the Via Francigena.
The TWIN Cabin is a hospitality service for slow travelers realized by the Politecnico University of Milan and by the Italian Alpin Club (CAI) within the TWIN project (Trekking Walking and Cycling for INclusion). The European Association of Via Francigena ways is a project partner from the very beginning, together with the Italian Cycling Federation and the Social slidarity Consortium Oscar Romero.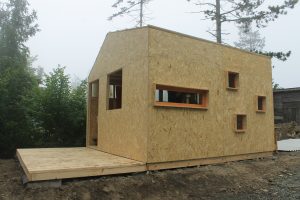 This first Cabin was constructed with reclaimed timber from the Vaia storm and worked at the carpentry of Monza's Prison, offering prisoners a training and re-education path. Indeed, prisoners were guided by the capable and generous hands of professional and volunteering wood workers, former teachers at the Meroni Institute in Lissone. The structure is similar to a mountain bivouac, which is not left to its own destiny but becomes a crossroad, a place of exchange, in which travelers meet places and people. Hospitality for pilgrims, hikers and cyclers will be granted by the community cooperative Berceto Nova. Together with the municipality of Berceto, they will provide jobs here for fragile people. The very name of the project, TWIN, contains an intrinsic duality: slow tourism and social inclusion, slow lines and recovery of unused spaces, infrastructure, and services. The project aims to create a replicable model for the regeneration of marginal and fragile territories, boosting local economies and creating opportunities for social inclusion.
General interest for walking and cycling trips is increasing and we hope that the tourism sector that is growing with this trend can create opportunities to provide jobs for those who are in difficult situations and to redeem those areas of the country which are being left behind and need tailor-made development models. The TWIN Cabin is the first step of a bigger project. The idea is to locate autonomous or semi attached housing modules along major walking and cycling routes. These modules will be managed by cooperatives or civil organizations and will focus on offering jobs to people who need support. This way, the pilgrim, hiker or biker who stops in a TWIN Cabin can contribute, by paying for the service, to a 'circular economy' that aims to regenerate territories and strengthen society.
Before we could inaugurate the first TWIN Cabin it took two years of intense work, but finally we are here: we hope to see you on the 31st of July at 10.30 to officially open our first TWIN location!
More information: www.twin.polimi.it
Source: Press Release, Capanna TWIN Passo della Cisa, 'Il 31 luglio al Passo della Cisa ore 10.30, si inaugura la prima CAPANNA TWIN'