Signposting is an essential element of the route for pilgrims traveling along an itinerary such as the Via Francigena on foot or by bicycle; the EAVF, in all four countries crossed by the Via, is constantly in contact with national and local institutions in charge of maintaining the routes to make sure they are kept clean, accessible and always well signposted, especially at the crossroads.
In the Italian section there are many friend associations of the EAVF, as well as professional workers and volunteers who contribute to this choral action: on the Via Francigena in Lazio north of Rome, for example, members and friends of CAI (Club Alpino Italiano) in Viterbo's section physically maintain the route, while south of Rome the Gruppo dei Dodici is particularly active.
Thus, it is our friend associations, whom we thank from the bottom of our hearts, that make this essential service for pilgrims and hikers possible. Maintenance and signage activities on the route are carried out in close collaboration with municipal administrations (in Italy they are the entities in charge of operating upon such issues) and with the coordination of regional administrations – following the guidelines of EAVF's Vademecum for the Via's route, published in 2016 and yearly updated.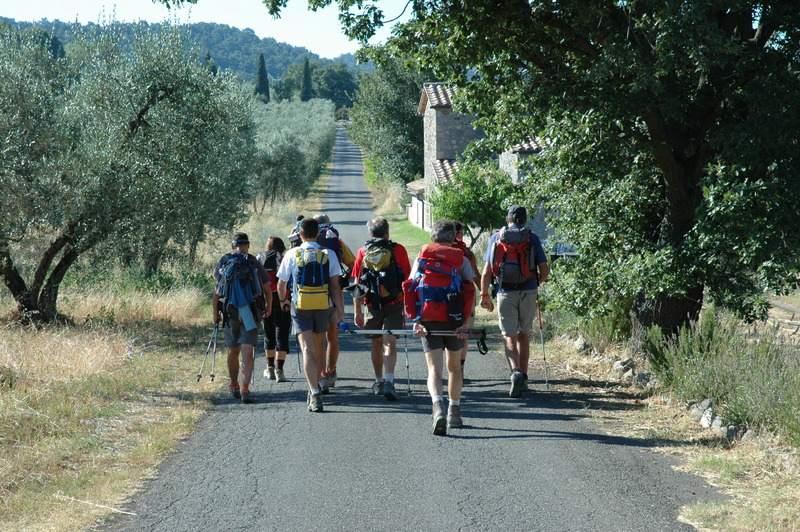 This spring, a technical team led by the EAVF in close synergy with the Region of Lazio travelled all the stages of the Via Francigena in Lazio – both north and south of Rome – to place additional 'light signage' in more than 1,200 points across the region. These adhesive markers – coloured white and red for the walking route and white and blue for the biking route – provide a practical and quick supplementary system that points pilgrims in their direction along off-road routes and paved roads, in the areas where it is not possible to place other types of signs or markings.
Regione Lazio represents a best practice – an example to be pursued for the maintenance of the Via Francigena route, in which the collaboration among multiple bodies and entities ensures fully viable and signposted paths.