The departure date is approaching; you feel like you took everything but can't help repeating the list of "I've got it, I've got it, I'm missing it!", tempted to empty your backpack and do it all over again… Calm down! First of all, we want to tell you that it's perfectly normal to have doubts about what to take with you (and what to leave at home) on a walking or cycling trip. Fear not: today we will take a look together at which backpack to choose for a long-distance trip and what to put in it.
Choosing a backpack
Let's start with the first step: which backpack to choose?
The backpack is one of the most important pieces of equipment: it is our "home" during the trip and must be chosen with great care (second only to the shoes). A careless purchase could put you in more or less difficulty during the walking experience.
There are many models of backpacks, with different capacities and shapes. We distinguish at least three categories, suitable for different experiences and uses:
20/40 litres: small but sufficient for a 1-day hike;
40/60 litres: suitable for multi-day hikes, usually without a tent, with an overnight staying in hospitality centres along the route;
60/100 litres: ideal for long walking trips, where a tent, cooker and sleeping bag are required.
To choose a backpack, attention must also be paid to the season, picking a larger model in winter, due to the bulkier equipment to carry, and a lighter and more breathable summer model, given the high temperatures. Pay attention to weight too! The backpack should not exceed 10% of our body weight and it is best to limit it to a maximum of 7-8 kg, well distributed.
We have long been using Ferrino Outdoor's backpacks for their practicality, compactness and colourful, elegant style. In particular, we have become fond of the 'Finisterre' model, designed specifically for pilgrims who travel long distances. The Association's staff had the opportunity to try them out during the 4-month Road to Rome 2021 and we couldn't be happier with our choice!
Click here to discover all the models on the Ferrino website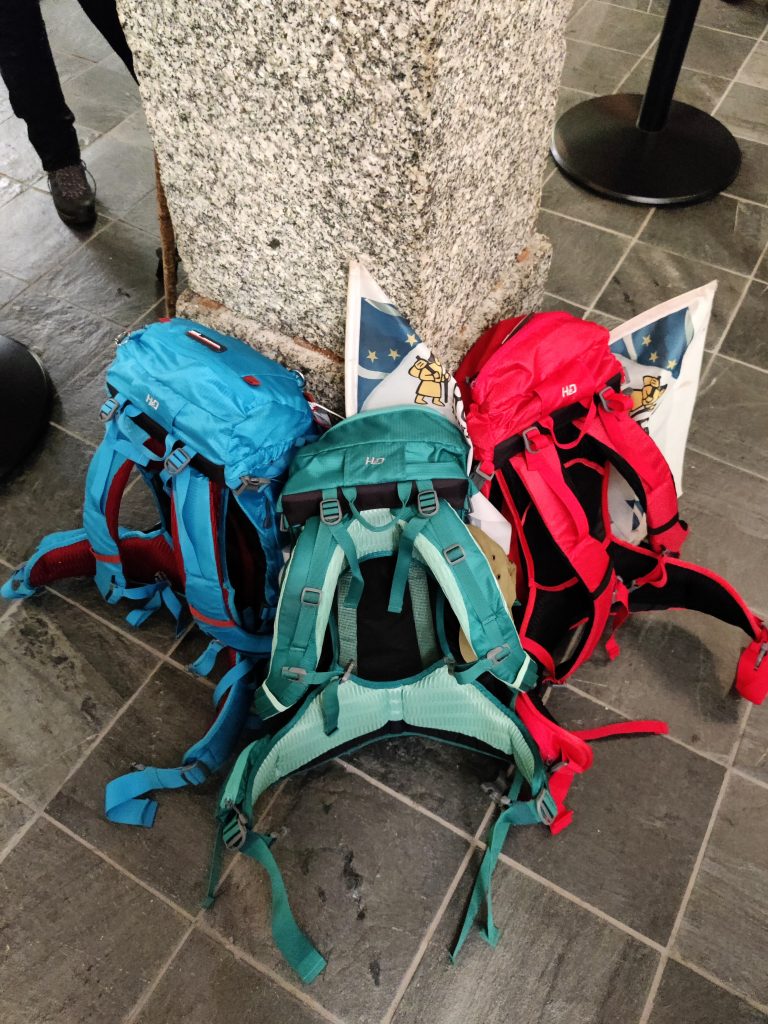 What to put (or not) in your backpack?
Ok, here we go back to the crucial question. After choosing the model, let's try to work out together what to take with us for a long-distance trip:
Clothing in lightweight, technical material: we usually carry a maximum of three pieces for a week-long walk. You will also need a (light) fleece, a k-way, a woollen cap (or sun hat in summer) and gloves. Pay attention to the choice of socks: choose the most suitable for your shoes to avoid annoying chafing on your feet.
Foot cream: to prevent blisters, you can put talcum powder on your feet before setting off and, at the end of the stage, a cooling, refreshing mint cream or shea butter.
First emergency kit: to keep at hand at all times.
Utility knife with hacksaw, headlamp and a small sewing kit.
Map and practical information on the route: we recommend downloading GPX tracks (tracks for those walking the Via Francigena are available at this link) but also to bring a map in case you have to cross areas with poor coverage or to avoid unforeseen low battery problems. It is also important to have all the information related to reception facilities, water points and refreshments.
Tent and sleeping bag, for those who decide to walk for several days without relying on reception facilities. You will often find organised campsites or private areas where you can easily set up your tent (take a look at our Accommodation & Facilities section).
Walking stick or trekking poles, which are useful for several reasons: to give rhythm when walking, mobilise the arms and provide support on ascents and descents. Many walking sticks have the option of being shortened to fit into the outer side pockets of your backpack when not needed.
When preparing your backpack, we advise you to pay attention to how you store objects. There are a few basic rules you can stick to: heavy objects should be placed either on top or in the middle, all close to the spine; never put sharp or hard objects in direct contact with your back; keep your first-aid kit and water bottle within easy reach (in the pockets of your backpack), as well as all those objects you take out and put back in several times a day while walking.
What are you waiting for, now? Get your backpack ready, all that's left to do is set off!
'Buon cammino' and… don't forget to share your journey on your social networks by tagging us!
Facebook: @ViaFrancigenaEU
Instagram: @viafrancigena_eu