On 6 June 2022 at the Embassy of the Czech Republic in Rome, representatives of the European Association Via Francigena ways and the European Cultural Itinerary of Ss. Cyril and Methodius signed a Memorandum of Cooperation between the two itineraries.
The ceremony took place in the presence of the Ambassador H. E. Hana Hubáčková; the Councillor for Mobility Policies of the Municipality of Rome Eugenio Patanè and the representatives of the two associations, the Municipality of Rome, the Region of Zlín and Silvio Marino for the Region of Lazio.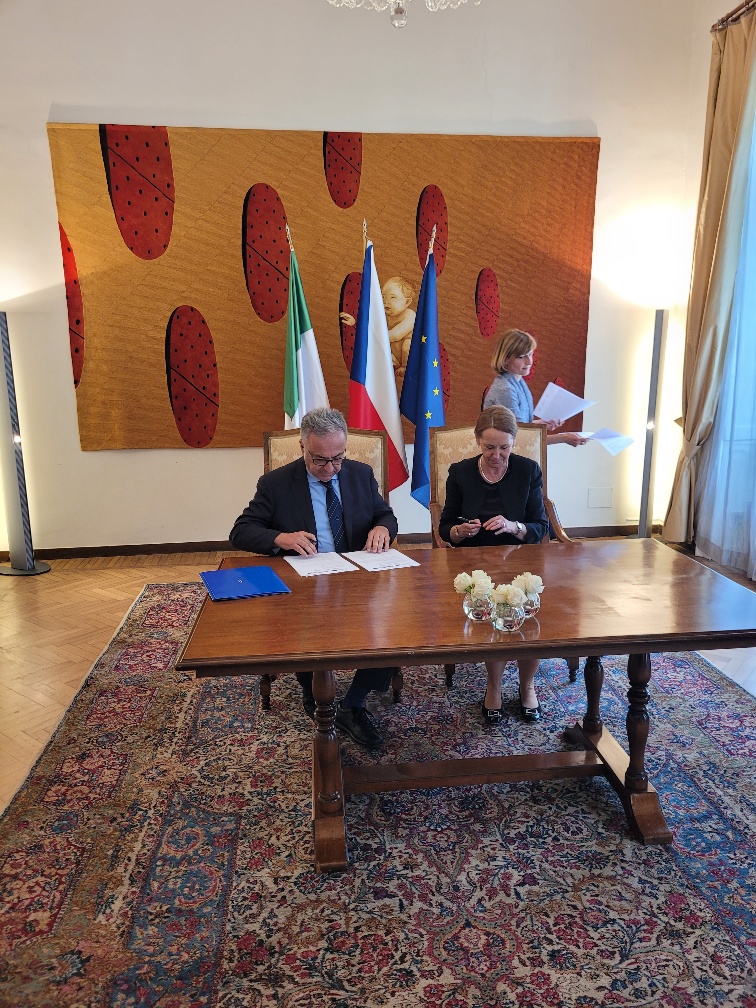 The Memorandum of Cooperation was created to offer cultural tourism alternatives along both routes, while creating development and marketing projects. Targeted programs are also underway to mark out parallel sections of both routes, for example between Tuscany and Rome, where the tomb of St Cyril is located. Both paths are part of the over 40 cultural routes certified by the Council of Europe, whose program currently involves 36 European countries.
"The Via Francigena serves to develop dialogue between Anglo-Saxon and Mediterranean Europe. With this act we integrate Western Europe with Eastern Europe. Thus we can develop a dialogue throughout Europe, which is why this signature is so important", said EAVF's President Massimo Tedeschi.
"Rome is approaching a very important appointment because in 2025 we will celebrate the jubilee. Therefore, the paths of faith will have an even greater significance that year than they do now", added Councillor Patané. "That is why we are betting a lot on this asset because it is a cultural, religious, historical and also economic asset. Therefore, we are very happy to work with you over the next few years to make this agreement we have found concrete, to make what was signed today a reality".
The Cyril and Methodius Route is based on a millenary cultural tradition, linked in particular to the culture of the Slavic countries. The route links the places where Saints Cyril and Methodius, co-patrons of Europe, worked and where their legacy was spread by their followers. More than 1,000 km of marked paths have already been created in the Czech Republic and Slovakia using the routes of Czech and Slovak hiking clubs.