The pilgrim stick – our Olympic torch – which will be passed from pilgrim to pilgrim during the relay march "Via Francigena. Road to Rome 2021" has arrived!The event celebrates both the EAVF foundation, which took place on 7 April 2001 in Fidenza (Parma, Italy), and the 27th anniversary of the recognition of the Via Francigena as a "Cultural Route of the Council of Europe", granted in 1994.
The Road to Rome is a great moment of celebration, a long relay march on foot and by bicycle along 3,200 km of the Via Francigena. The walkers will carry a pilgrim stick as an Olympic torch passing it to the next group, step by step, along the entire journey.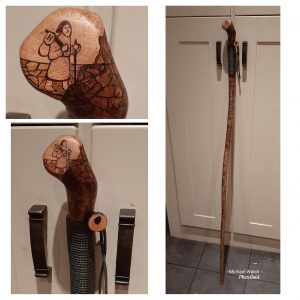 A Hazel stick sourced 3 years ago by Michael Walsh near Holycross Abbey in Tipperary, Ireland will be used in this initiative. It has been seasoned, cleaned and prepared with over 10 coats of boiled linseed oil to get it ready for its journey.
The artwork was completed by a local artist Julie Helen Sharp and the cord grip was made by a stick maker Declan O Shea.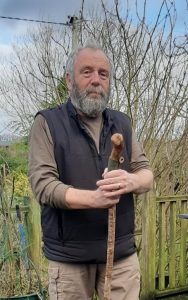 The stick was blessed by the Parish Priest of Holycross, Fr Celsus Tierney on 26 Feb 2021, praying for all those who will take part in this long walk.
Special thanks to the Confraternity of Pilgrims to Rome, who suggested us to obtain the walking stick and drove the whole process. 
More information about the Road to Rome 2021 here