The European Association of Via Francigena Ways and SloWays support the Refill Now sustainability project, a map of all drinkable water sources along the Via Francigena.
Refill Now is a sustainable project created by an Italian start-up with a specific mission: "revolution the way drinkable water is consumed", helping private companies and tourism destinations to provide alternatives that can decrease the consumption of plastic water bottles and other disposables.
Starting from the Italian Island of Elba and progressively growing across Italy, a shared network was built to identify public (fountains) and private (hotels, bars, restaurants and partners) water sources where walkers and citizens can refill their water bottle and minimize plastic waste. The innovative part of the project is the Refill Now Map, an interactive map, continuously updated and accessible through a QR code, which can be found on the project's personalized steel water bottles. This allows to quickly and easily find your water supply without downloading an app or sharing personal data.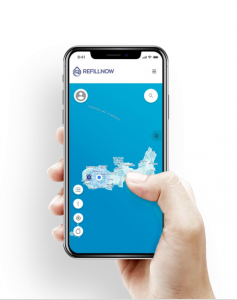 Refill Now is a solution which unites associations, cities, private companies (hotels, bars, restaurants, shops, Tour Operators) and citizens to minimize the impact on our planet and educate people towards responsible behaviors, both during their routine lives and during holidays. By developing this project we not only create a service for the community; we also value water as a resource and promote sustainable tourism, valuing the actions that companies are taking to reduce their environmental impact. Between the beginning of the project and May 2019 the consumption of plastic bottles decreased of about 1.5 milions. The European Association of Via Francigena ways shared and invited to the project more than 300 accommodation structures who are part of its VisitVieFrancigene network, raising awareness among hotel and restaurant managers. SloWays created personalized water bottles, financed the project and sensitized walkers to the use of reusable bottles and to the possibility to indicate the presence of water sources directly on the map.
See this video to discover how these water bottles and their QR codes linked to the Refill Map work:
Project objectives:
Reduce consumption of plastic bottles
Facilitate localization of drinkable water sources through the map
Incentivize the development of public and private drinkable water sources
Promote sustainable tourism and responsible lifestyles
How can you participate in the Refill Now project? Buy a Via Francigena stainless steel water bottle on SloWay's shop, use the QR code you find on it, share the project with your friends and help us map water sources along the route. An easy, fun and quick way to reduce plastic consumption and your environmental impact!