In an earlier post I talked about the preparations for a six-day trek on the Via Francigena by our family of four. This new "Trekking on the Via Francigena" post will chronicle exactly how that worked out for us and will give pointers for those of you who may be tempted to do the same.
Day One – When the going gets tough, the tough gets going
➡️ Bourg St. Pierre to St. Bernard Pass
The first day of our trek along the Via Francigena started out well enough.
From Bourg St. Pierre, Switzerland, we began the first leg of our six-day hike – the 850-meter climb to the St. Bernard Pass into Italy. The sun was shining, the morning was pleasantly cool, and I, my wife and my two teenage children were eager to hit the trail.
The path was easy to follow, and the mountain scenery was stupendous. Along the way my son, Jack, took pictures of marmots, and my wife, Caroline, an avid gardener, identified wild flowers with a new nature app she was testing. While in Switzerland, we had turned off our phones completely to avoid costly roaming charges, so we could not make use of the GPX files to guide us. The yellow trail signage, with backup topological maps with landmark indicators, was sufficient to find our way.
However, somewhere after the sixth hour of what was supposed to be at most a five-hour hike, I began to get nervous. OK, we had stopped to take pictures and admire the scenery, and eat a leisurely packed lunch. But then the path began to climb steeply, and an unending cloud of thick fog rolled in, reducing visibility to several meters. The temperature suddenly dropped, making us dig out our cold-weather garments, and our accumulated fatigue suddenly hit us.
When we finally pulled ourselves up over edge of the pass to stumble onto the streets of St. Bernard, all we wanted was to find the warmth and comfort of our hotel. We collapsed in our beds after a hot shower and dragged ourselves out only for dinner later that evening.
Looking back over the entire six-day trek, the hike up to the St. Bernard Pass was the most physically challenging, but, and perhaps for that very reason, it was also for me the most satisfying.
This first leg of our trek also set the pattern for the remaining days: an early morning, optimistic departure; stunning scenery and interesting cultural sites; a sharp drop in enthusiasm and energy level in the afternoon and the need to call on our dwindling reserves of stamina and good humor to finish the hike; the day ending with a weary satisfaction decisively boosted by a shower, a great dinner and the prospect of a restorative sleep.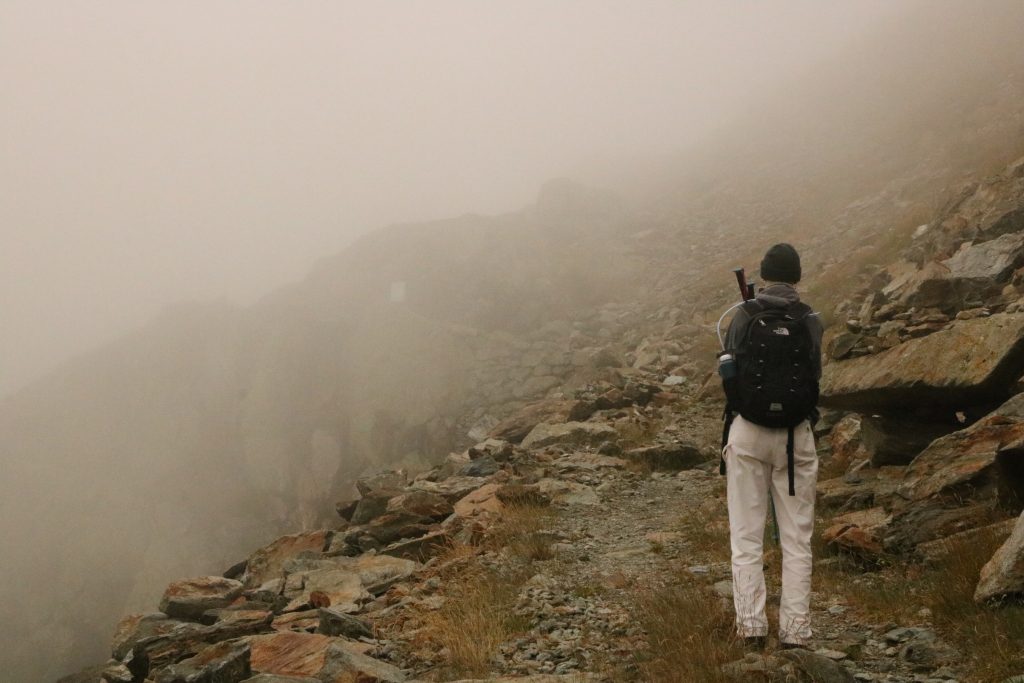 Day Two – Rain and Shine
➡️ St. Bernard Pass to Etroubles
On the second day of our program, we awakened to cold rain and sharply reduced visibility. Because the hotel Wi-Fi was down, it was impossible for us to check the local weather forecast. So after speaking with several locals about the risks of proceeding down slippery, unfamiliar mountain paths in the rain (most advised against it), we voted to take a local bus down to Etroubles, the next stop on our itinerary.
After the previous day's hike, a bit of a rest while taking the bus to avoid the rain and muddy mountain paths seemed both welcome and wise. But as our bus wound down the switchbacks of the mountain road, the sun gradually came out, warming and drying the countryside, making us wonder if we should have insisted on pursuing the hike. Of course, second thoughts come easy when sitting in a warm, dry bus for an hour and a half instead of slipping and sliding down the mountainside for five or six hours. Little did we know how we would soon long for less of that sunshine.
Later, over dinner, we all agreed that we wished we had tried to complete at least part of that day's itinerary. In a way, this regret helped stiffen our resolve on several occasions during the week-long trek when we felt our ambition weaken.
Day Three – Lost and Found
We started out early the next morning for our next destination: Aosta. This hike covers about 16 km and is mostly downhill and quite scenic – that is, if you don't get lost. But around three-quarters through the hike, that is exactly what we did.
The designated trail wound through cool, dense woods and, for much of the way, followed an old irrigation canal with mountain melt water still flowing through it. At times, we hiked through open fields, which gave us a view of the Aosta Valley ringed with sharp mountains and bright blue skies, as well as an appreciation of how much the trees protected us from the heat and the sun.
Then, after about four hours, we got lost.
Just about the time we walked out of the sheltering woods and into the heat of the direct sun, and just as we were starting to feel our fatigue, I realized that I no longer knew where we were nor which trail to take to get us to our destination. I knew that Aosta lay eastwards and at the bottom of the valley – roughly that way. But I did want to avoid adding unnecessary kilometers to our hike under the high noon sun.
Then I remembered the GPX files that I had downloaded for this portion of the hike. Sure enough, we had wandered way off course, but, fortunately, not too far and not too far from Aosta. Blindly following the moving dot on the smartphone screen, we worked our way downhill, skirted electrified fences, cautiously crossed meadows with grazing cows (and a bull), until we finally reached our hotel in Aosta.
Aosta was the only large city on our itinerary. And while tourism was not the goal of this trip, I wish we had had an extra day to explore the city, the center of which is a long bustling pedestrian concourse lined with shops, restaurants and pubs. A lemon granita sipped at an outdoor café in the city center at sundown was the perfect way to boost our morale and energy level.
Day Four – Tipping Point
In every challenging project or undertaking, there comes a moment of discouragement when you ask yourself if what you are doing is worth the pain and effort. This happened to us on Day Four on the road from Aosta to Chambave.
The itinerary covered nearly 25 km including both uphill and downhill gaps of 800-900 m, and all within a walking time of six to seven hours. Accepting that discretion is the better part of valor, we decided to hitch a ride part of the way to Chambave with the truck that would take our luggage to our next hotel. We figured that we could, with our self-respect intact, ask the driver to drop us off at a point that would leave us about 10-15 km to cover.
Instead, he dropped us off after only 5 km, leaving us a full 20 km of mountain trail to cover. This would be the longest hike so far and one that would be mostly under the direct sun, with an ambient temperature around 30°C. By the time we finally got to our hotel in the late afternoon, tempers were frayed, morale was low, and there were dark mutterings about why we were staying in a hotel out in the middle of nowhere that did not have at least a swimming pool. What kind of a vacation was that, anyway?
The discouragement soon dissipated, and we reminded each other that this was never meant to be a relaxing vacation but rather a challenge, even an exploit. And we wondered, with no small amount of pride, how many other families we knew would be able to do the same. Also helping to set our spirits right was a cool shower, a short rest and one of the best pizzas we had ever eaten. Somehow, before falling asleep that night, we went from questioning the whole trek to having our confidence and determination fully restored.
Day Five – Getting the Balance Right
The trail from Chambave to Verrès stretches over 27 km and takes an estimated seven-and-a-half hours for accomplished hikers. Even before leaving Belgium, we knew that we could never complete the full day's hike. Instead, we took advantage of the fact that the Via Francigena in the Aosta Valley is mostly a mountain path that runs parallel to a major motorway much lower down in the valley. Our plan was to hike as far as we could and then, when we had reached our limit, descend from the mountains to the motorway and catch a bus for the remaining distance to Verrès.
With this solution in our back pocket, we confidently started early and had one of the most enjoyable hikes of the entire trip. The trail led through cool, wooded hills and a series of small, well-kept villages worth a closer look. Many of them displayed welcome signs showing that the inhabitants were used to – and supported – the numerous hikers and pilgrims passing through. At one house, the owner had put out a visitors' book to be signed by passers-by. We also appreciated the numerous fountains of fresh water from mountain springs flowing continuously into open troughs. This allowed us to keep our bottles full of cool water and, on occasion, dunk our heads into the water.
However, once we left the protective shade of the woods and hiked continuously in the open hills, the heat quickly became unbearable. After about 10 km in the direct sun, we clambered downhill to the town of Châtillon and caught a local bus to complete the remainder of the trip to Verrès.
Day 6 – Hitting our Stride
As this was the last leg of our trek, we agreed that we would hike the entire trail, come what may. This was partly due to the desire to finish the project on a positive note but also to the boost in confidence and ambition that came from realizing just how far we had come and how far we felt we could still go.
That ambition would be put to the test, because this itinerary of nearly 20 km was almost entirely under a cloudless sky in the direct heat of the August sun. Our experience of the previous day had prepared us well. We covered ourselves with hats and bandanas and anointed all exposed skin with sun cream. Water bottles and bladders were filled to the maximum and were topped up at every fountain or spring we crossed.
Once again, there were picturesque villages and historical sites to see along the route, including the medieval commune of Bard and the Bard fortress, the restored medieval bridge of Echallod, and Roman ruins near Pont St. Martin.
As the setting sun, bathed the 1st century Roman bridge that spans the Dora Baltea river flowing through the center of Pont St. Martin – our final destination – we sat at a café in the evening and toasted the conclusion of this successful if sometimes stressful trek and talked about what we would take away from our experience.
Lessons Learned
One of the things we agreed on was that the trek had been physically difficult and that better training beforehand could have greatly reduced the discomfort. At the same time, it had become clear over the week that mental resilience was just as important as physical strength. Those of us who were the fittest did not always lead, and those who were the least fit kept up through sheer determination. We also agreed that a clearer understanding of the challenges to be faced would have helped to better manage expectations during the trek.
An unanticipated consequence that we all appreciated was the opportunity to spend time together on the trail. It is not often that families today have five to six hours a day for six days in a row to walk side-by-side, talking uninterruptedly with each other and reacting together to new and challenging circumstances. This was a rare opportunity for us as parents and for our teenage children to see each other differently and to create new and lasting bonds.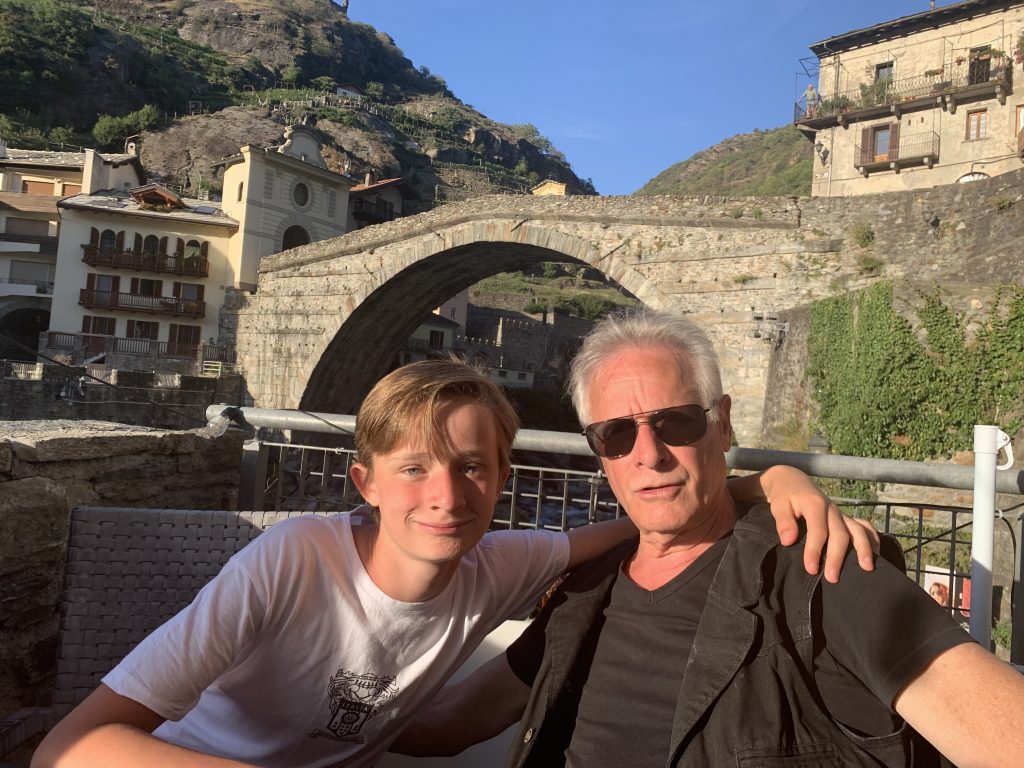 Do It Again, Do It the Same, Do It Differently
From the point-of-view of equipment, everything related to the smart phone, including an external power pack, is a must-have. In addition to the photo capabilities and an emergency link to the outside world, the smart phone provides a GPS facility and appropriate GPX maps, as well as weather forecasting apps that proved to be invaluable aids during our hike.
Heat matters. While the heat was never so bad that we thought that we had made a mistake to plan our hike in the summer, we were keenly aware that we had to take special care to mitigate the effects of the 30° heat and direct sun: early morning departures; hats and bandanas; sun cream; and abundant water. For this latter, water bottles or bladders with drinking tubes were game-changers. The ability to continuously sip water whenever we felt thirsty, rather than having to stop to dig a canteen out of a backpack, meant that were constantly and fully hydrated.
In the end, we survived the heat handily, but I would really like to do the same or a similar trek in a more temperate season.
My teenagers rarely used their hiking poles except for impromptu fencing matches or for venting their frustration at our slow progress. This is perhaps due to the recklessness of youth as well as to their greater agility. On the other hand, while my wife and I only used our poles on two or three occasions, when we did, we were really grateful we had them, notably for steep climbs and descents, and narrow, rocky paths winding alongside a steep precipice.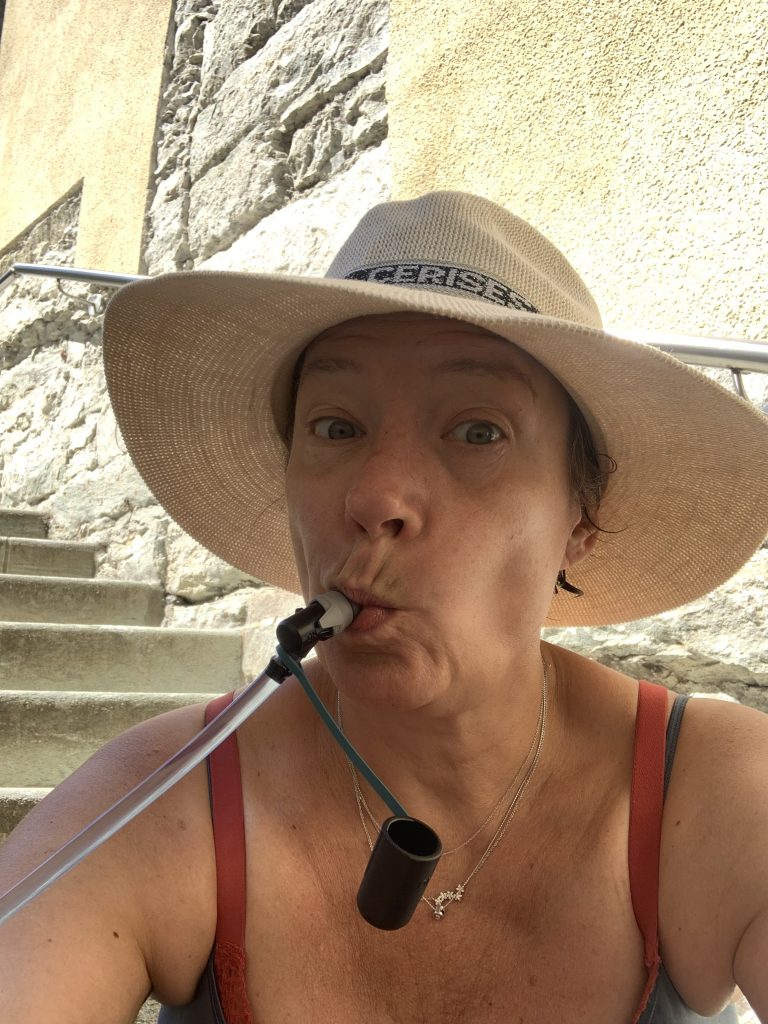 What would we have done differently?
The trek was our goal. Limited time and energy meant that we pushed ahead rather than stop to smell the roses. Still I feel that we did not allow for enough time to appreciate the special nature of Switzerland and Italy, be it the larger cities, such as Aosta, or the small villages tucked away along the mountain trail.
If feasible, I would allow for a one-day break at mid-trek in a nice hotel (perhaps with pool or spa) in an interesting or picturesque town to give myself and my family a restorative pause. And on a day-to-day basis, when you have had enough, do a little more, and then stop. Call it a day, take the bus, shorten your hike. Don't try to be a hero. That said, as we discovered, it is only outside of your comfort zone that you really accomplish new and remarkable things, such as learn what you are capable of. So if that is what you are looking for, go ahead and push yourself. Just make sure everyone else in your group is on the same page with you.