Nicoletta walked the Via Francigena on her own in October and told me about her experience in an interview for the #storiediragazzeingamba column. At the end of her journey, which she explained stage by stage on her social media profile, she wrote an emotional list of what she took home with her. A sort of backwards backpack – the reverse of how we normally think about it. A backpack to return – containing everything that allows us to continue our journey once we are back where we started. A baggage of experiences, emotions, encounters and new awareness that has the power to renew our view of the world. This is the story of Nicoletta, who collected a few considerations for us, after the first interview she released for us.
WHAT I CARRY HOME
by Nicoletta Freschi
Group "Ragazze in Gamba" – Rete Nazionale Donne in Cammino
I bring home the anxiety of the first day of my first experience of walking alone. The anxiety of always having to be careful: careful about where I go (so as not to get lost), careful about how I go (so as not to arrive too tired), careful even about who I meet (so as to surround myself with good people). Then again it wasn't really about anxiety. I wasn't anxious in the negative sense of the word, also because the experience was too good to be ruined by trivial anxiety, and I knew the chances of great success were too high! Rather than anxiety, I think, it was excitement linked to healthy concentration. A bit like a child on her first day of school, for whom everything is new and beautiful, but who, at the same time, knows that it is best to be attentive to understand what to do and what to avoid. Before this, I had never felt such a sensation on the road – there were always two of us, it is easier to know what to do and mistakes are more manageable. Now I am really alone, far enough from home, with all the essentials packed in a backpack on my shoulders. Me and myself, the new landscape in front of me, my excited feet and an unclear horizon that is so seductive.
And so, step by step, my journey and this adventure began. And so, step by step, the landscape became familiar, my feet became heavier but stronger every day, and the horizon became an absolutely attainable destination, though still so seductive.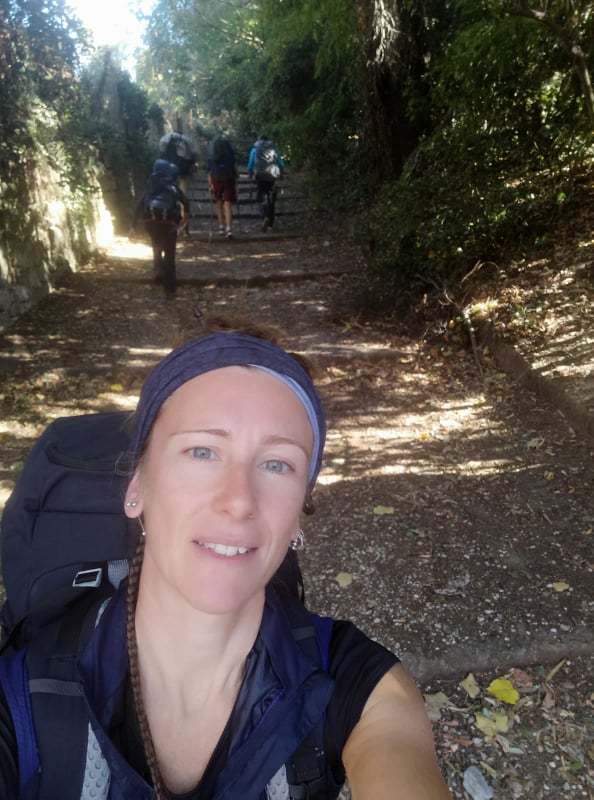 I bring home the people I met along the way and who have become pieces of my journey. In particular, I take home four people because, by the sheer chance of life, I have shared so much in so little time and space.
Alessio with his 'waiter's step', straight and fast, without the slightest hesitation. Alessio who, with his rock music and his bright plans for the future, lit in me flames of nostalgia, but also good intentions.
Karen, originally from California, with a daughter living in Rome, a husband in San Diego and three grandchildren the age of my children. Karen with her beautiful foreign accent, who loves to speak our language and dreams of getting to know Italy by walking.
Deborah and Emmanuel, curious about the world and people, smiling and well-balanced one with the other. Deborah and Emmanuel who always have a perfect word for every occasion and who fill their eyes with every single landscape and their backpacks with traces to be kept carefully so as not to forget anything.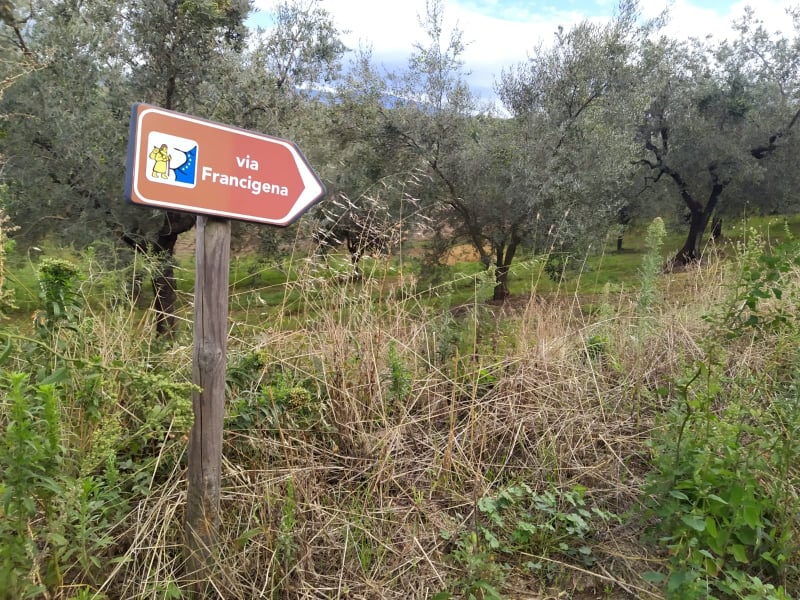 And then I bring home the sweetness of Mario, the manager of the Bar del Pellegrino, who put us all around a table, satiating our hungry mouths for a few pennies. Mario, with his desire to share stories and his dream of retiring.
I carry home little pleasures, such as the sunshine in the eyes, the bare feet relaxing in the freezing water of a river, the refreshment of a beer, the exaggerated hunger at dinner time and the sensation of a boiling shower. But also the sweetness of silence, the enchantment of words that mix up with steps and the excitement of the arrival. I carry home the blue sky and the autumn colors, the sparkly morning breeze and the heavy one of the evenings, when you're tired. I carry home the wind and the warmth on the face, but luckily, this time, no water nor mud.
Just as every walking journey, I carry home roads, trails, forests, grasslands and crossed villages. I carry home monuments, many of which are unknown and tingle my curiosity. Unfortunately, I also carry home the ugliness of the suburbs of Rome, the dirty and stinky sidewalks and the sad image of a girl rummaging in the garbage bins, because this was also part of my journey. Yet, I carry the sight of the Cupola from Monte Mario and the shiny white color of the columns of Bernini.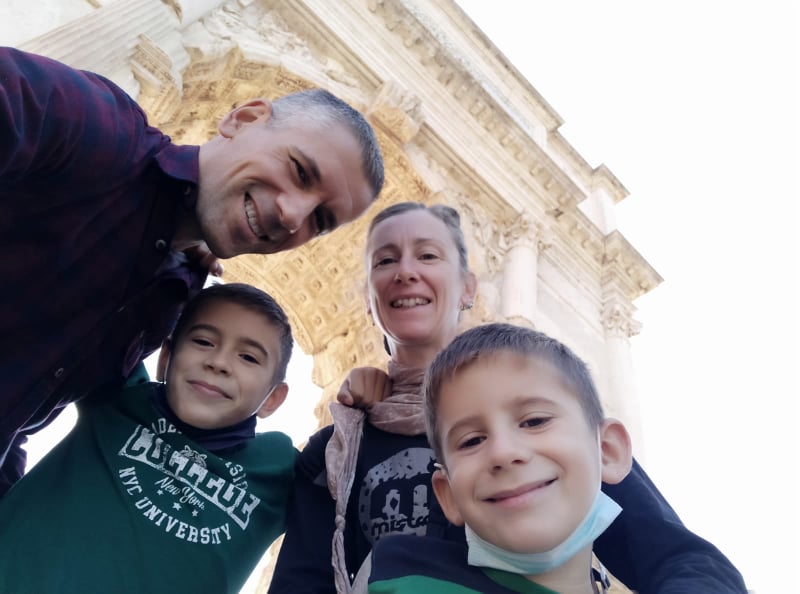 Finally, I carry home the hug of my husband and of my untiring children, who, while I was away, were there all this time, supporting and waiting for me. My super family joined me at my destination to welcome me, because after all I can go on for many steps along many journeys, but the greatest journey is the one I take with them every day, the most important steps are taken together, one at a time, with commitment, fatigue and devotion: the only steps that always keep me standing, and the only ones who will really carry me far away.
AUTHOR: Ilaria Canali – Walk Experience Designer
Communication expert, she deals with the promotion of Italian walking routes, slow tourism and women's thematics. Head of the Rete Nazionale Donne in Cammino and founder of the group Ragazze in Gamba.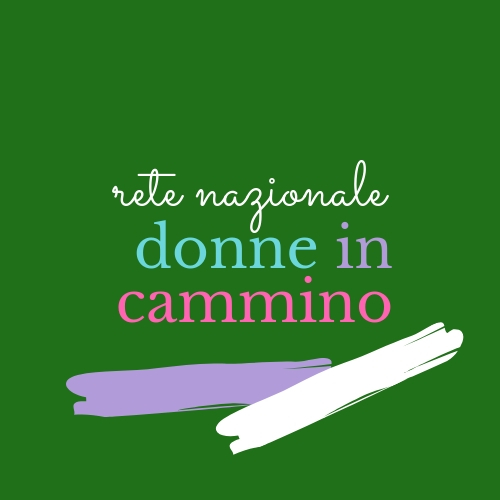 COLUMN "STORIES OF RAGAZZE IN GAMBA"
Light footsteps of simplicity and magic, by Ilaria Canali
The RETE NAZIONALE DONNE IN CAMMINO (i.e. 'national walking women network') was born on 8 March 2019. Its mission is the promotion of women's empowerment by walking. It represents a movement for social change and it is the point of reference for women walking throughout Italy, with thousands of followers, also from abroad. It is a communication project that promotes Italian routes, hiking experiences, mutual support, female narratives and both virtual and real-life sharing of walking journeys. Its social community, called 'Ragazze in Gamba', brings together 65,000 people who share the values contained in a 'Manifesto' containing the guiding value of freedom. "Just Walk" is its slogan. An invitation to get involved, simply and rigorously on the road. The group also welcomes men. E-mail: retedonneincammino@gmail.com