Do you want to walk in winter and enjoy the mountains in a different way? It's time to go snowshoeing!
The Via Francigena crosses 5 countries and many different landscapes: villages, countryside, cities, plains, forests and mountain areas. It is usually walked or cycled in the summer, spring and autumn seasons, but less so in winter. Its mountain sections crossing the Alps, at the Great St Bernard Pass, and the Apennines at the Cisa Pass, may seem the most difficult. Yet, walking on snow-covered paths has an unusual charm all to discover, even more so if armed with snowshoes!
Thousands of years ago, mountaineers trekked across snow-covered peaks carrying some kind of snowshoes on their feet, which today are attached under their boots. They wore snowshoes, also known as snowshoes, because they offered a number of advantages: they did not sink, and therefore allowed us to float on fresh snow without sinking into it, while metal crampons helped us not to slip on the snow when it was hard.
Today, snowshoeing is a recreational and affordable activity for everyone, suitable for spending a day outdoors even on the coldest days of the year. Snowshoes are indeed an effective way of hiking in fresh snow and being in contact with nature all year round.
When going out in the snow, and on a winter hike in general, keeping warm and dry is essential if you don't want to risk making the experience truly unbearable!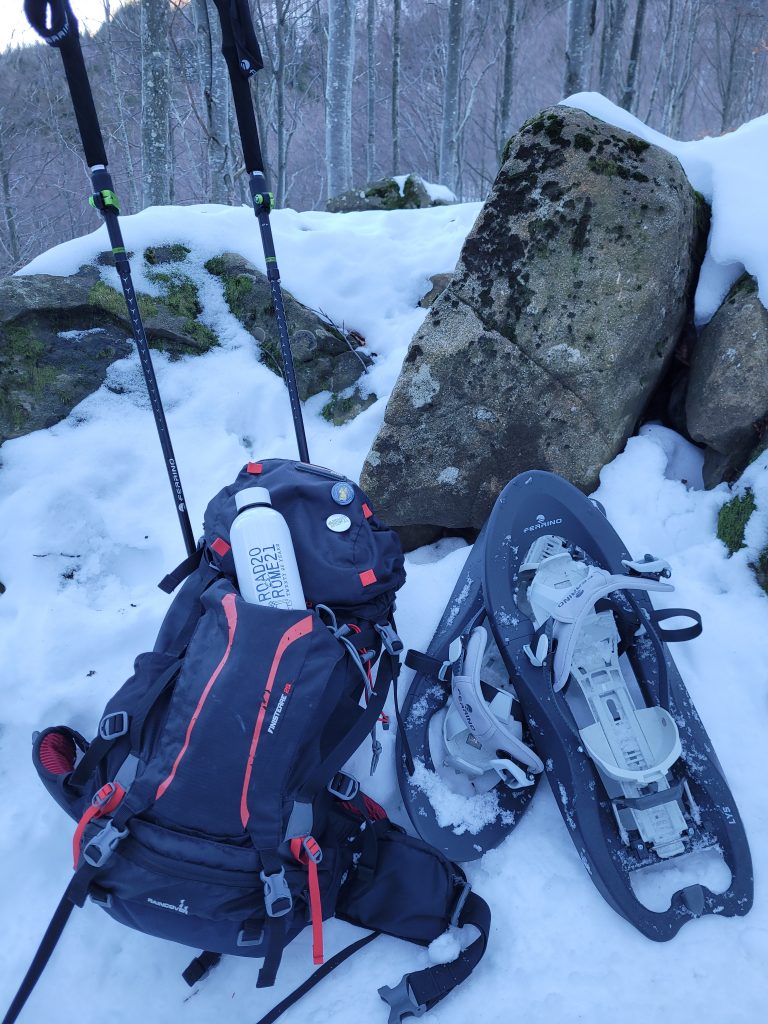 Here are the 3 essential tips for a warm and safe snowshoe trek:
1. Suitable equipment
Choose snowshoes that are suitable for your weight, foot and outdoor weather conditions; use poles and wear warm, waterproof hiking boots. For the choice of snowshoes and poles, we recommend you visit the website of our technical partner Ferrino Outdoor.
Click here to choose the best snowshoes for you
2. Recommended clothing
Remember to dress following the three-layer rule: light next to the body, warm in the middle and windproof at the end; lastly, don't forget your hat, gloves and snow gaiters.
Click here for more tips for staying dry on a winter hike
3. Safety
Remember to hydrate often, wear sunscreen and stay as warm and dry as possible. Finally, check the forecast to predict the possibility of avalanches and snow conditions before you go out. When walking in fresh snow, there can be a risk of avalanches: take care to choose suitable routes and days, be accompanied by someone who knows the area and always have a GPS with you. To follow the GPS tracks, download the AllTrails App by clicking here.
Snowshoeing is an intense activity and a little more strenuous than walking. However, it allows us, in a season when we tend to lethargy, to enjoy unparalleled scenery and views that feed the mind and heart with pure wonder!