In Auchy-au-Bois, a small French municipality of 500 inhabitants located in the Pas-de-Calais department in the Hauts-de-France region, the first square on the Via Francigena dedicated to Sigeric was inaugurated on Saturday 24 June.
It is an important example of how the Via Francigena is increasingly becoming an element of identity and a reminder of the cultural roots among the territories crossed by the European route. Today, a total of 715 municipalities see in Sigeric's itinerary a uniting fil rouge.
This beautiful square, containing a large green space, a small library to exchange books, a shaded area and benches to rest, therefore becomes a meeting place between local inhabitants and the travellers who arrive on foot from all over the world by following the itinerary.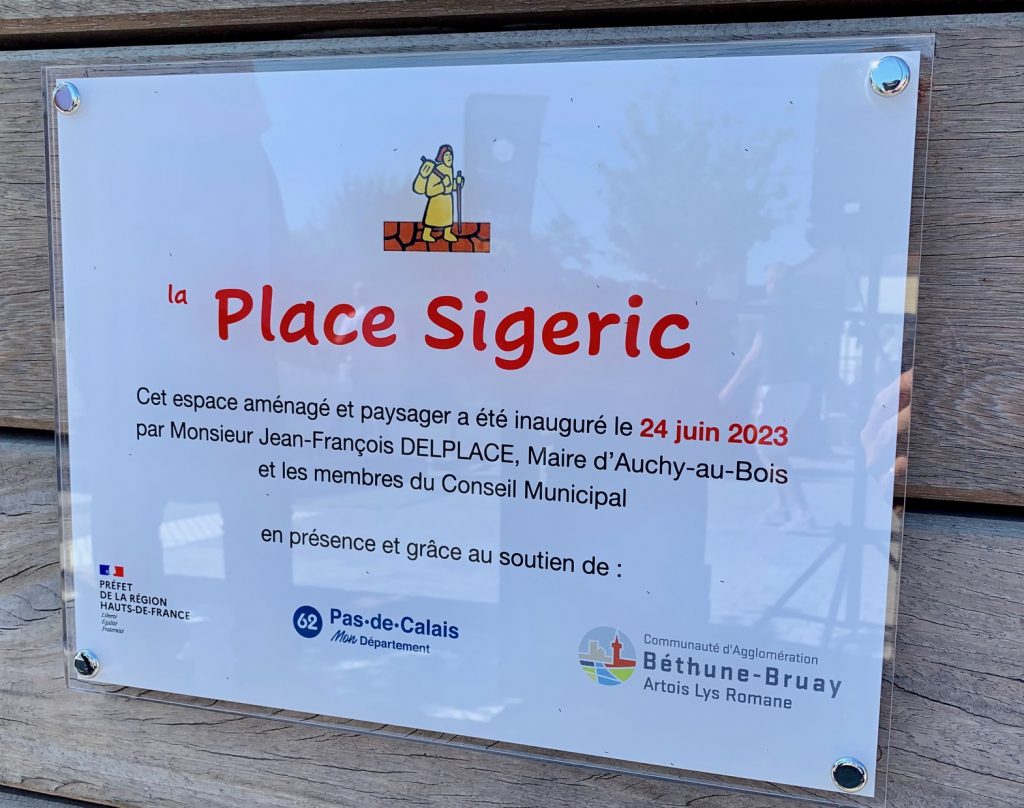 As Mayor Jean-Francois Del Place mentioned during the opening greeting, this square represents an important symbol for a small village enhanced precisely by the Via Francigena and its international cultural and tourist dimensions.
The square is an important "symbol of renewal for the village of Auchy-au-bois, but also a symbol of modernity, mobility of social inclusion that focuses on the use of public spaces."
Institutional participation in the event was sustained with speeches by Bertrand Petit, MP for Pas-de-Calais; Olivier Gacquerre, Mayor of Bethune and President of the Agglomeration Béthune-Bruay, Artois-Lys Romane; Amel Gacquerre, Senator for Pas-de-Calais and Regional Councilwoman for Hauts-de-France; and Eddie Bouttera, Sub-Prefect of Bethune. Also present were Didier Depauw, councilor of the Agglomeration Béthune-Bruay, Artois-Lys Romane and Franck Laine, general manager of Bethune.
To testify to the validity of the initiative within the EAVF network, President Massimo Tedeschi, Vice President Martine Gautheron and Director Luca Bruschi attended the ceremony.