Autumn is one of the best seasons to walk thanks to mild temperatures and the beautiful warm colours of foliage. However, if you set out in autumn you must expect walking at least in one day of heavy rain!
Anyone who has been caught unawares at least once in their life by autumn rain knows how unpleasant it can be: wet clothes that never dry out, cold hands and feet, muddy and heavy shoes… but hey, don't let it get you down!
Rain requires preparation, that's all. If you have everything you need with you and take it out at the right time, walking in the rain can be one of the most pleasant and romantic experiences of the season and of your life. It's an opportunity for deep contact with nature, with our nature as human beings who, before civilisation, lived openly with every weather situation. For some people, rainy days are the best ones – the truly unforgettable ones, the ones of reflection and insight. That's when important decisions for your life are made, the ones to be taken home after the journey.
We've therefore prepared a list of tips to ensure you have a good time even on rainy days:
1. Keep an eye on the weather
It seems obvious, but it is really important to take a look at the weather every night to prepare for the next day. You should also check it in the morning before departing. It is best to rely on official services such as:
Remember to prepare your hike carefully by studying your paths and routes, in order to avoid finding yourself in unpleasant situations: walking on slopes, rocks or logs that become slippery with the rain or crossing rivers swollen by heavy rainfall could lead to great difficulties in continuing, if not an interruption of the journey due to inability to continue. For this reason, we advise you to consult the All Trails app, partner of the Via Francigena, where you can find maps and directions but also tips and reviews written by other pilgrims who decided to hike in the rain.
2. Pick the right equipment
Whereas on a summer day a k-way is enough to shelter you from the rain, in autumn it's a totally different story. First of all, it's a good idea to wear a breathable and UV-proof technical shirt, which will prevent moisture from coming into contact with your skin. On top there should be a fleece layer, or a sweatshirt, and a waterproof jacket, given the autumn humidity even when it's not raining. A poncho or PVC cape should be added on rainy days: light and foldable, it will not weigh on your backpack. It's true, you won't look particularly sexy in this outfit, but we can assure you that this is the most effective way to stay dry: practically, it's like wearing an umbrella! Always keep your poncho in an easy-to-reach place so that you can quickly find shelter if the rain comes suddenly. Remember to also wear a waterproof hat, perhaps with a visor covering your eyes and glasses from the water.
As for the lower part of the body, shoes should of course be as waterproof as possible. Make sure they are not worn under the sole, to avoid slipping in the wet. Socks can also be waterproof, but bear in mind that your foot does not perspire when wearing them. The best is to wear waterproof ones only when rain comes. You can then remove shoes and socks as soon as you reach the end of the stage, allowing your feet to breathe. Gaiters are also useful, as they prevent water or mud from entering through the neck of the shoe.
Finally, we recommend a pair of plastic PVC trousers. Wearing the whole outfit, you can freely do whatever you want while walking in the rain: sit on the ground or on muddy benches, walk in tall grass, do the rain dance or open your mouth to drink the drops in those mid-stage sections where no one can see you.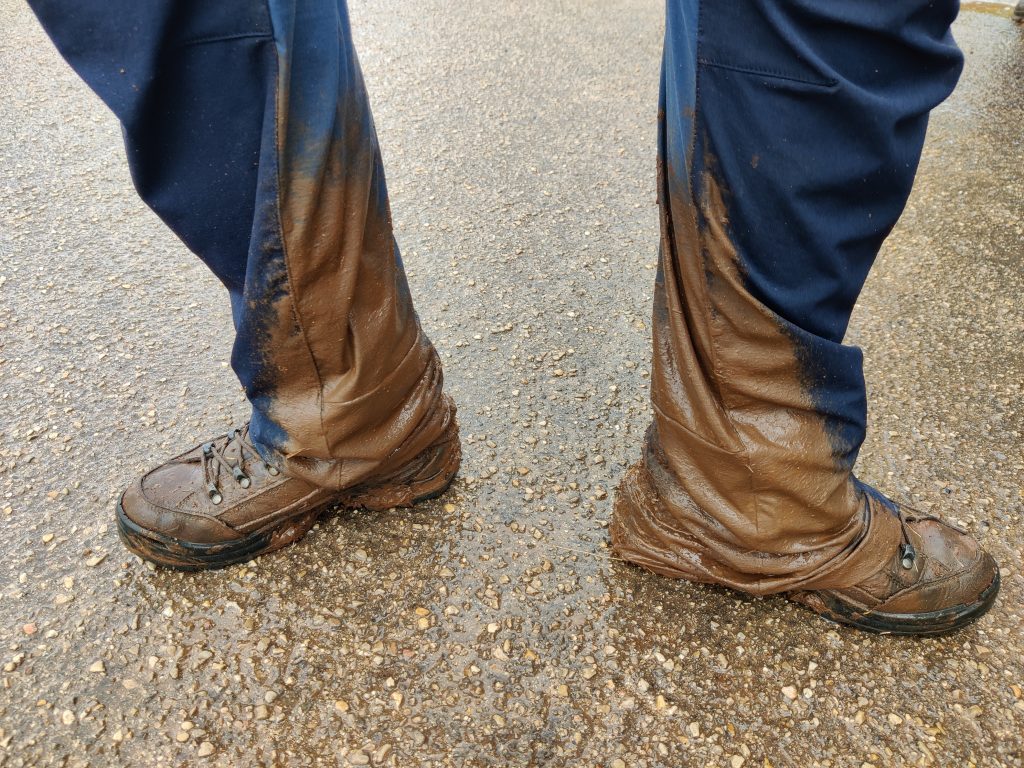 3. Stay dry
Having survived the rainy day, the most important moment arrives: getting out of your wet clothes! A complete change of clothing is necessary to avoid potential hypothermia, so it is advisable to bring at least one extra change of clothing, including underwear, in this season compared to summer. We recommend that you bring a pair of sandals or flip-flops to immediately free your feet and let them breathe. The skin of the feet in fact weakens when wet, and the risk of having annoying blisters increases.
Even more important is making sure that your clothes and all the contents of your backpack stay dry during rainy days. There is no nastier surprise than finding all your clothes damp when you get under a roof! To this end, we advise you to take precautions from the moment you pack your bag before setting out. Ideally, you should always keep your clothes divided in compartments, using special waterproof watertight bags that you can find in most sports shops. Otherwise, you can use plastic bags. This is also a great trick to keep your backpack tidy during the trip, and to keep your electronic devices sealed away! On top of this, you can cover the entire backpack with the classic waterproof rucksack cover when it's raining.
4. Watch your step
The ground becomes more slippery with rain. Small streams of water can create along the path, which you should avoid as much as possible. In such cases, it is useful to have a pair of trekking poles or a walking stick.
When the rain is very heavy, it's not a good idea to walk along the bank of a river, which could swell quickly. Rock walls are also dangerous as debris could fall down along them. The best place to walk during rain is in the forest: leaves provide shelter and roots collect water so that it does not accumulate on the ground surface. In the event of a thunderstorm, however, one must move away from the trees and the wisest choice is to seek shelter.
5. Smile
The rain will test you, that's for sure, but the way you react to difficulty is your choice and yours alone. A day's walk in the rain is, in this sense, a metaphor for life. We know how difficult it can be to stay calm when everything seems to be going wrong. If you really can't cheer yourself up, our advice is… smile! A smile on your face is the first step towards positive thinking 😊
Finally, good physical preparation is even more important in cold weather: take a look at our dedicated section. If you have doubts, need advice or wish to exchange opinions with other walkers, check our Facebook community!